FAQs

---
Tell me why it will work on my ...
We regularly hear positive Hydrovane reports from boats that are over 50,000 lbs (23,000kg) displacement. The heaviest boat we've fitted to date weighs in at 60,000 lbs (27,000 kg). That owner named his Hydrovane 'The Hand of God'!
We are able to fit heavier displacement boats because of developments made to the Hydrovane over the past ten years that have focused on today's larger and faster boats. Prior to these changes, we used to suggest maximums of 40,000 lbs. (18,000kgs.). These maximums have changed considerably.
Some of the developments include:
2015 – 'XT Vane' –  more power for light air
2011 – Larger Rudder is perfected. It is longer, fatter and better balanced: more powerful but easy to control
2009 – Switched the rudder shaft to 'Super Duplex' steel, which is nearly three times as strong as the predecessor '316' stainless steel
2010 – New Con Rod assembly is 33 times stronger and provides a tighter and smoother transition
In each case for heavy boats, the customer must help gauge the suitability. The Hydrovane's steering power diminishes as the size of the boat increases and is challenged at higher boat speeds starting at perhaps 10 to 12 knots.
Best is to read the reports from our customers.  Search testimonials for:
Liberty 458
Garcia 48 Catamaran
Motiva 49
Hallberg Rassy 49
Callisto 45 (steel)
Grand Soliel 52
Custom Aluminum 52
Maple Leaf 50
Nauticat 44

Beneteau 50
Hunter 50
Hanse 505
Garcia 46
Van de Stadt 50
Bowman 48
Nautitech 47 Catamaran
Kaufman 47
Taswell 49
BOATS UP TO 25 TONS – Our old suggested maximum displacement was 20 tons. But we have learned a lot and made some improvements since then. Now have plenty of owners of 25-ton boats or even more who are happy enough with what they get from their Hydrovanes. Actually, we keep upping the acceptable weight limit only to discover that an even heavier boat is happy enough with their Hydrovane. We know that the limitations are all based on sensitivity to sail trim – for both the boat and the skipper.
BOATS OVER 25 TONS – CONSIDER DUAL HYDROVANES
THREE RUDDERS – Two Hydrovanes on a boat would deliver double steering power – nothing more and nothing less. A single HV is comfortable enough on 25 ton boats but does need nursing …………. requires well balanced boats with good sailors on board.
Contact us for more information.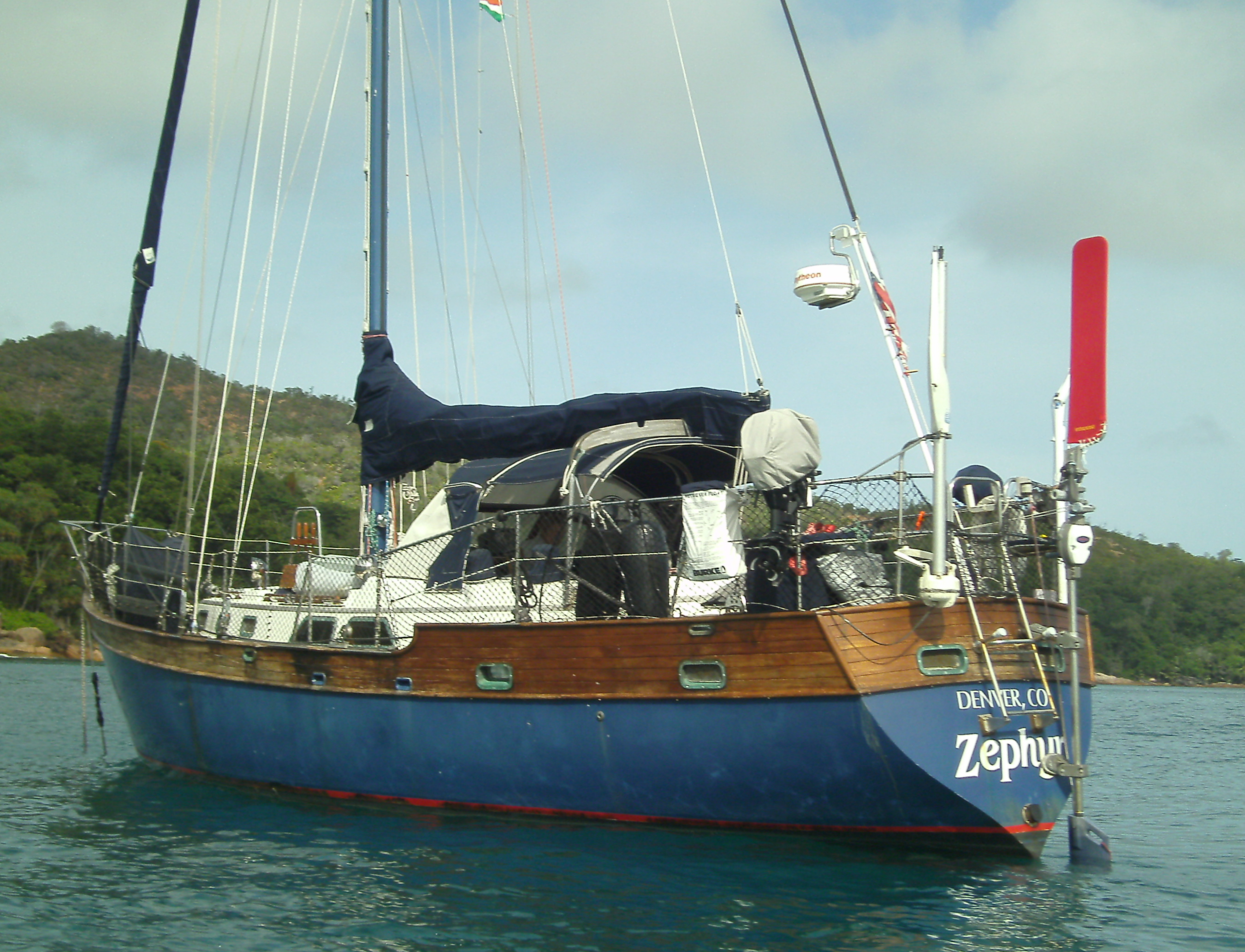 In the end, we covered the 3600 miles from St Helena to Trinidad in 32 days.  Not bad for a boat weighing in at 23 tons.  Who says wind vanes can't steer a heavy boat even when it's offset on the stern. Not us!!!

Without our Hydrovane, the trip would have been a whole lot harder.  We only had to steer the boat when we left or entered each harbor.  The rest, it was our Hydrovane that did the work.

As I've told other boaters, don't leave a harbor without a Hydrovane.  Thanks for making a great piece of equipment.  In the 40,000 miles we've covered, the only repair we've had to do was replace the pin that holds the rudder onto the steering shafts and it sheared off in 35 knot winds off the stern starboard quarter a long time ago.

– Bill and Tracy Hudson, SV Zephyr, Liberty 458 – 23 tons
Winds 0 to 40 and the Hydrovane was just perfect. Even under power in 8 foot trailing seas, heavy fog pulling into Portland it performed wonderfully. I had waves breaking on the transom with no canvas and it was fine. I can't tell you how many times I look back at the vane and think it's just Magic. As I first started to use the Hydrovane, I struggled. I doubted that it could steer the boat, too much boat. I was over correcting, not properly trimming the main sail, not using the rudder for gusts.

On the other side of this learning curve, it is just magic. Thank you so much. It's the best money we've spent on the boat. The funny thing is that, the cost held me back. It took two years before we bought. The peace of mind, savings in energy consumption and the quiet, I'll say quiet again! It's by far the best money we ever spent.

– Dan Alonso, Hallberg Rassy 49
In the FAQ on your website there is question about the ability for your windvane to steer a heavier boat.

I singlehanded across the Atlantic over (Capo Verde-Barbados) and back (Bermuda-Azores) in opposite wind conditions (plus many shorter trips for around 10.000 nm) with my 15m Hallberg Rassy and…. at last travel-lift she has been weighted around 28 tons (European) (Diesel, water, anchors and all material that have been collected in 6 years around!!)

The only one time "Hydrolino" (I named the wind vane) lost the way was because, at night and close-hauled with around a 20 kn wind, the main rudder with a bit of helm disengaged himself from the right position.

– Frederico Roman, Hallberg Rassy 49

The suitability of a Hydrovane on a multihull is subject to all the same criteria as a monohull: How well balanced is the boat? What is her displacement? How easy is she to steer? What boat speed is she sailing (relative to wind strength)?
Just like high speed racing monohulls, high performance catamarans can be problematic because of the rapid changes in apparent wind when surfing downwind. But the reality is that many cruising cats are more about comfort than maximizing speed.
Within these limitations, the benefits of a Hydrovane can be enjoyed by a cruising multi-hull: ease of use, complete back-up steering system/rudder, and enormous reliability!
The only recommended Hydrovane location is at the end of a pontoon/hull, for optimal leverage and separation from any high superstructure.
Perhaps mutihulls have even more vulnerability to rudder failure than monohulls because their rudders are unprotected and unsupported; usually the simple spade rudder lack a protective keel or anything like a skeg or bottom support. Hence having a separate independent rudder and steering system should be of enormous value.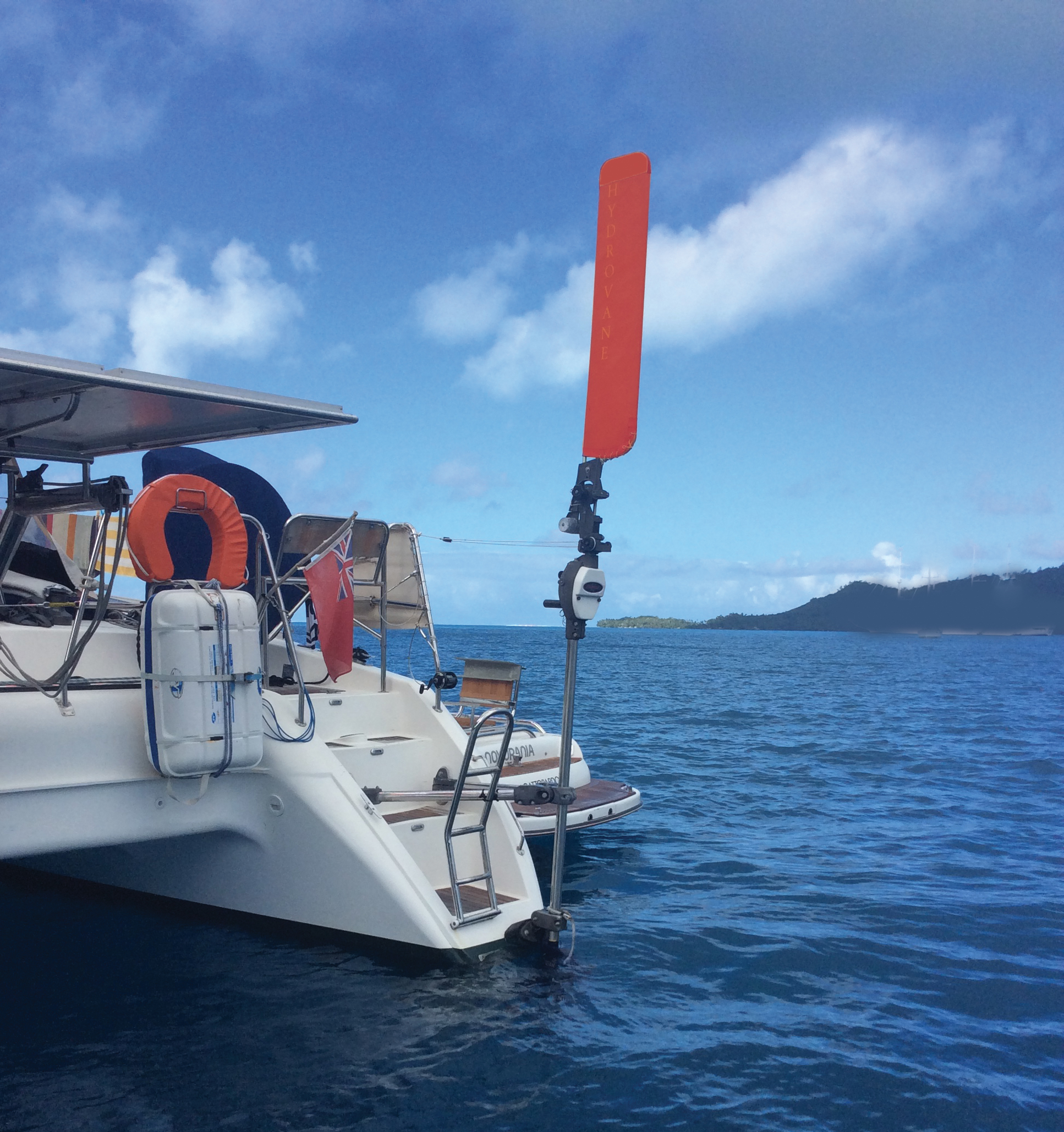 After sailing around 6000 miles now with our Hydrovane on our Nautitech 47 Catamaran, I just wanted to drop you a line to congratulate you on what a great piece of kit it really is. Rarely have I bought something in this Marine industry that simply does exactly what it's meant to and performs so well. Beyond steering us flawlessly through all the conditions we have met so far, it has also been an amazing conversation starter in most ports when people say "I've never seen/didn't know you could mount one of those on a Catamaran, how does it work?" To which I reply "It's absolutely brilliant and I haven't found a condition it won't steer the boat in yet!"

– Nautitech 47 Catamaran

The Hydrovane is often fitted to boats with mizzens.
The technique is to first design the installation so that the Hydrovane, without the vane, will sit comfortably below the boom.
When tacking or gybing, the technique is to loosen the Vane Knob so the vane can be pivoted to nearly the horizontal position and the knob tightened to hold it there. With the vane lowered and trailing aft, the mizzen boom should easily clear the Vane when tacking or gybing.
When in use, a 'preventer' on the mizzen boom is the rule.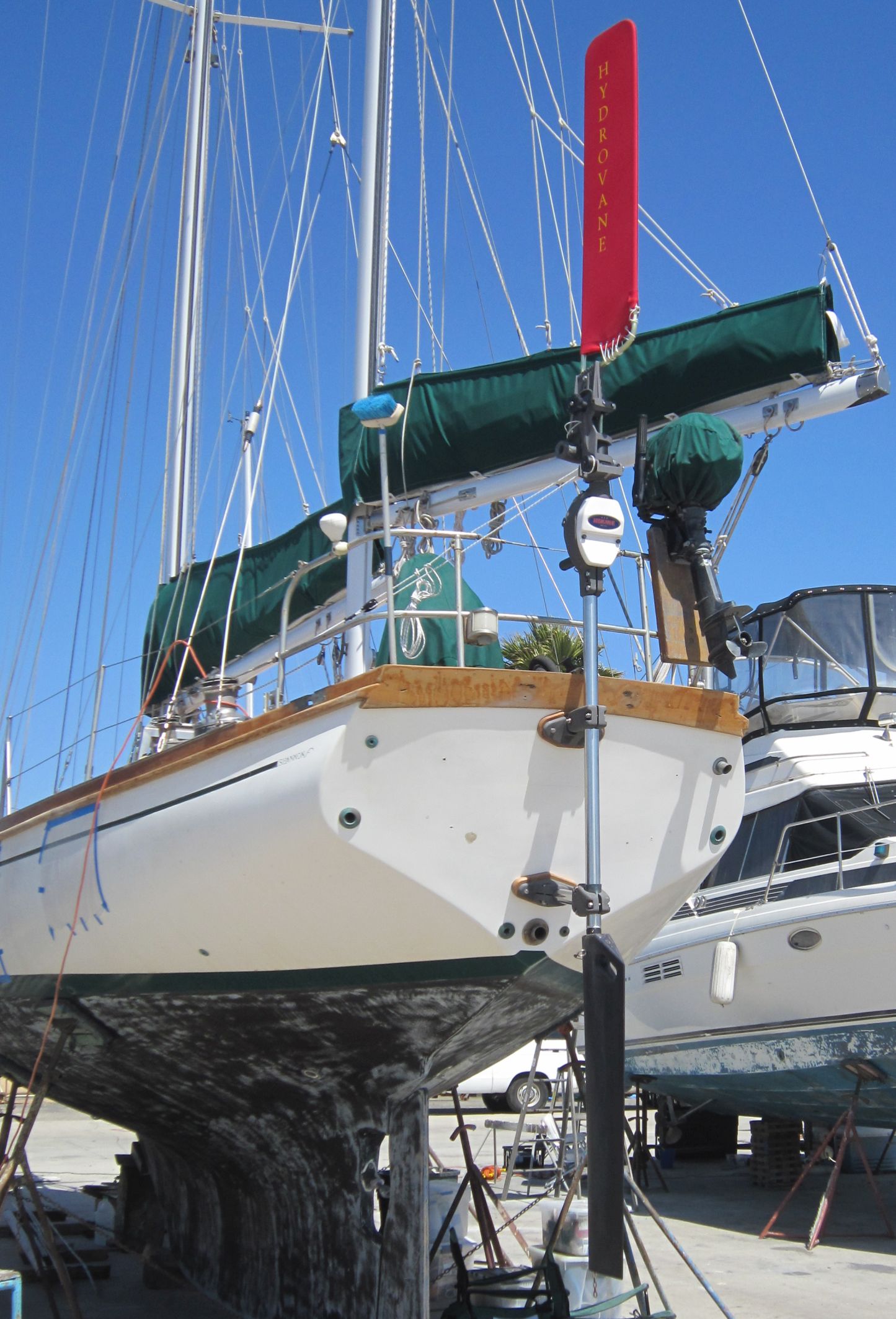 Yes, the Hydrovane worked great and I really appreciated it being solo. I had one time on the crossing with wind directly behind me (15 knots or so), the mizzen out to port, the main out to starboard and the genny out to port (wing on wing on wing) and sailed that way for about 5 days without touching anything!

– Shannon 38 Owner
On a essayé à peu près toutes les allures dans des vents allant de 0 à 20 noeuds. A partir de 5 noeuds de vent, notre ketch se met en marche et l'hydrovane le barre parfaitement quelque soit l'allure – de près serré à vent arrière. Je craignais que la voile d'artimon perturbe l'hydrovane au prés sérré mais elles interagissent sans problème.

English Translation: We have tried just about every point of sail in winds from 0 to 20 knots. From 5 knots of wind, our ketch starts moving and the Hydrovane performs perfectly whatever the pace – even close downwind. I feared that the Hydrovane would be disrupted by the mizzen when going upwind but they interact smoothly."

– Roberts 44 Ketch Owner
I have sailed with my Hydrovane about 55 000 nautical miles and I can recommend it.

The most important thing is that it is totally independent of boat's steering system. We had during our first Atlantic Crossing 2012 problem with steering cable and we used Hydrovane tiller while fixing that problem.

Mizzen boom: We have not used mizzen while sailing close hauled upwind. Mizzen gives practically no power in that situation. You just keep boom on one side with preventers.

There is no problem while you sail downwind. Just be carefull with preventers.

– Hallberg Rassy 42E

4
//
Boat with hydraulic steering?
Auxiliary Rudder systems are ideal for boats with hydraulic steering.
With hydraulic steering you do not really lock the main wheel – you simply let go – the hydraulic system will freeze the rudder in that position.
Over time there will be a bit of 'hydraulic creep': ever so slowly the rudder will move as hydraulic fluid seeps through its hydraulic motor. That only means that the watchkeeper, from time to time, must give the wheel a little adjustment. We had hydraulic steering on our last boat, I used my big toe to give the wheel a little push now and then.

---
Planning and installing the Hydrovane
1
//
How easy it is to install a Hydrovane?
It must be the easiest windvane to install.
There is considerable flexibility in where you choose to install the brackets – unlike most other windvanes that require absolute precise positioning. The two brackets are holders for the shaft, which should be aligned vertically – not a gravity vertical, but 'boat vertical' – aligned to mast and keel.
There are only 4 or 6 transom bolts required, and most of the bracket castings have hinges to allow you to find the easiest and most natural position.
Use of strong backing plates and ensuring that your transom has no flex are important.
Takes a day – but double that because it is a boat project!
2 or 3 transom flanges require 4 or 6 bolts
Considerable flexibility in the location of the flanges
Bracket struts can be cut down to the length you require
Unit comes almost completely assembled
To give yourself a clear idea, visit the Technical section to download the detailed Installation Guide and watch our three part Installation Video series.

2
//
Will it work installed off center?
We hardly hear this question anymore because Hydrovane off center installations are the norm.
The answer is: Absolutely. We recommend off center installations.
A number of years ago, various trials were conducted through the University of Southampton. The tests were conclusive: The Hydrovane is absolutely indifferent as to its location – as long as it has 'clean water' to work with, it can produce its certain amount of steering power wherever it is located.
More importantly, however, is that about 75% of Hydrovane installations in the past 10 years have been off center. With hundreds of thousands of miles sailed by our customers, and so many positive testimonials to prove it, there really is no doubt.
Perhaps some may have initial uncertainty because yes, an off center installation would be potentially disastrous for a servo pendulum system…  If their blade/paddle lifts out of the water the boat could instantaneously 'spin out'. Imagine that in a storm!
The difference with an auxiliary rudder system is that the rudder has very little likelihood of popping out of the water, and even if it did not much would happen because:
The Hydrovane rudder is longer, reaching much deeper in the water
The rudder does not swing from side to side like the servo systems. Theirs might even lift out of the water when amidships.
Even if the rudder did lift out of the water, which would last for only a few seconds, the boat should hold course as the main rudder is locked 'on course' – preventing any 'spin out'
When reaching or going downwind the boat is never heeling much and the Hydrovane rudder is deep in the water regardless of which tack it is on.
Only when heading upwind and heeling substantially might the rudder, if on the weather side, be more exposed out of the water. Even then it does not matter much as that is the easiest point of sail for steering – most boats almost steer themselves when going to windward. In addition, when using a self-steering system one discovers that excess heeling (carrying extra canvas) really is counterproductive… the boat is not well balanced and often needs less sail for the same or even better boat speed.
With the change in modern boat transoms, extreme offsets are becoming common place. The widest offset we have done to date is 4 ft / 1.2 m – and that customer, who has sailed across the Atlantic, stated there wasn't a point of sail it wouldn't work on. A typical offset is maybe 12 – 18 in / 30 – 45 cm.  We installed the Hydrovane on our boat 26 in / 66 cm off center.
The only advantages of an amidships installation might be the aesthetics (for some boats) and perhaps the protection provided by the boat's keel.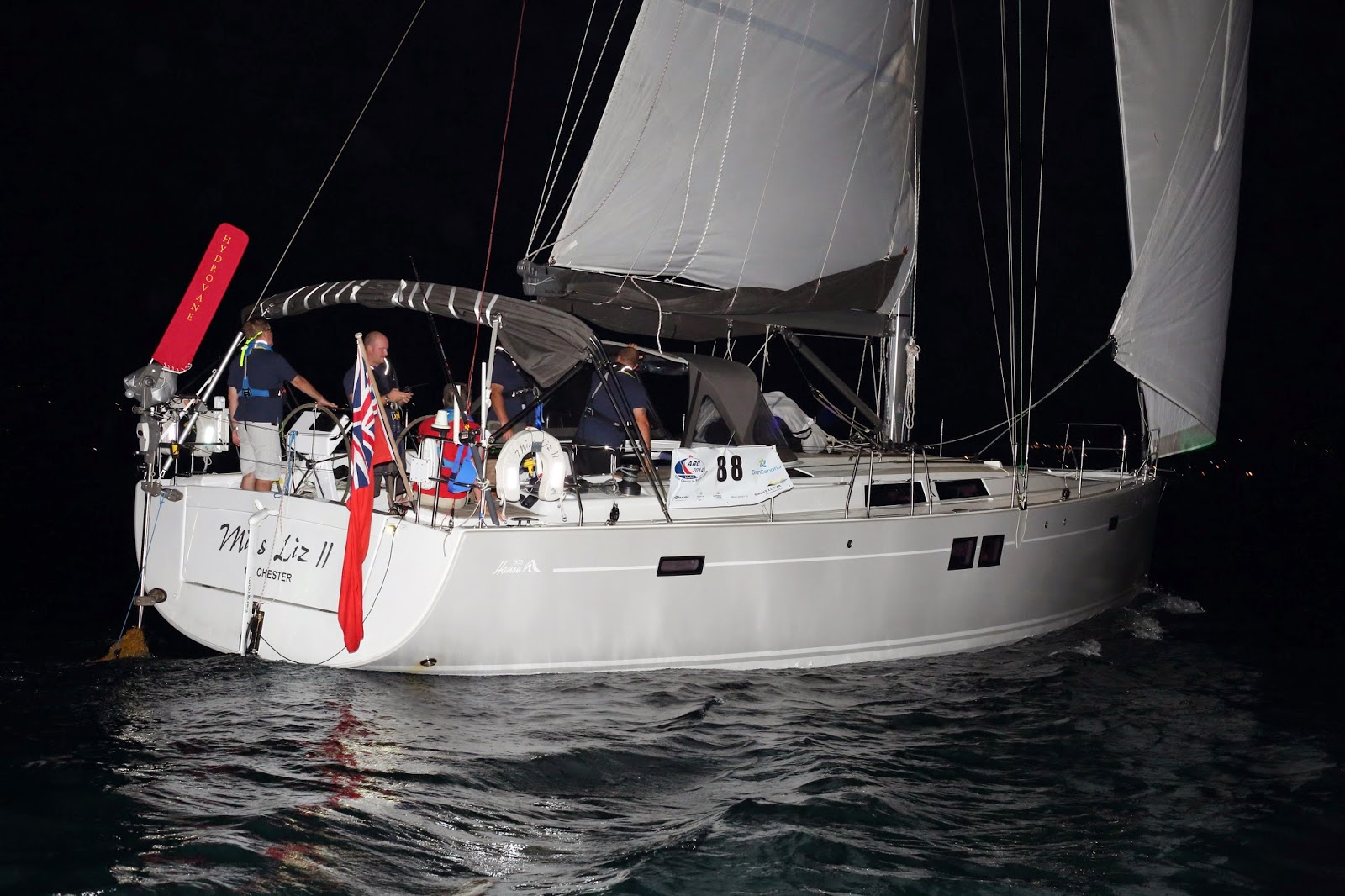 Hydrovane fully functional and ready to go, as is the watt and sea hydrogenerator. Both proved themselves on the voyage, with the hydrovane working tremendously well across a range of conditions.  Key being to set Miss Liz II up, properly balanced before setting it loose. Quiet and efficient with no energy draw – perfect. And at 7 knots and above the watt and sea covered onboard power usage well.

– Hanse 505

3
//
What about my davits, arch, pole, solar panels?
No problem. We know cruising boats are loaded with gear!
As the Hydrovane's source of power is the wind, its vane is particularly large and we provide a configuration that optimizes its height. Many other systems do have problems with blanketing of the vane by above deck structures, but not Hydrovane.  Our vane is big and generally always finds the wind.
That being said, the Hydrovane vane needs certain space to function. We are able to solve any limitations by these techniques: have 3 sizes of vanes, can be offset, using different shaft lengths and/or the Extended Heading Tube to get the unit either higher or lower.
As for davits, you don't have to give them up. Your dinghy can rest up against the Hydrovane shaft tube and drive unit. So long as the vane pivot point is not obstructed, there is no problem using the Hydrovane and your davits at the same time. Likely you won't keep the dinghy on davits while sailing offshore, but otherwise, your dinghy can happily remain hoisted in its davits
There are many options to make a Hydrovane fit – and the configuration we specify will fit your boat. If you have a 'busy transom' we will certainly need photos and measurements from you.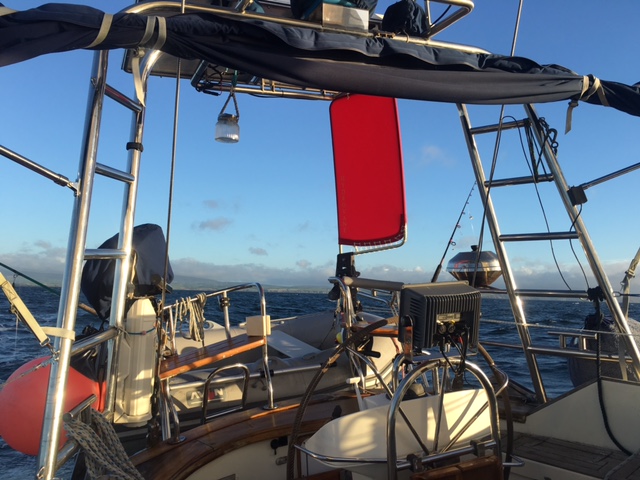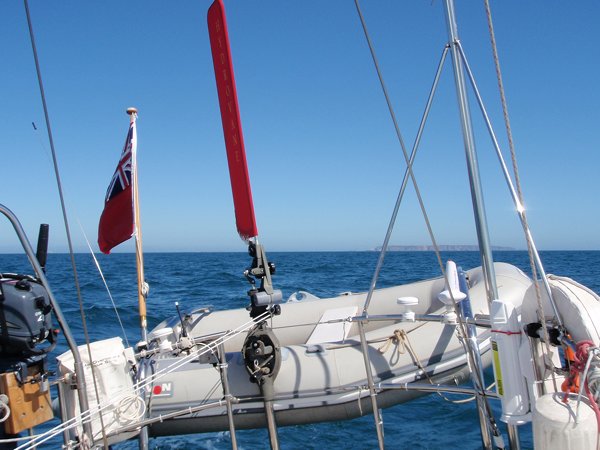 …it shows the Hydrovane in use with our dinghy to show that you can actually use the Hydrovane with a dinghy stowed in the davits – not a very windy day though! This set up works really well like this and the dinghy does not interfere with the Hydrovane – in fact the Hydrovane helps to keep the dinghy solid and stop it moving around.

– Oyster 406
My setup is so cool… Hydrovane, davits, and 350 watts of solar panels. I didn't have to compromise!

– Roberts 44
Our boat Kate, a Newport 41', had a wind vane on her transom when we bought her in 2008. It had barely been used but the spider web of lines running through the cockpit looked like trouble. We replaced it with a Hydrovane and couldn't be happier.

We are full time sailing live aboard's and despite the "dirty wind" created from the solar panels and other necessities aloft, our vane performs extremely well. It is one of the most important pieces of equipment we have on board, and one of the easiest to use.

– Newport 41

4
//
I've added an arch and now the vane hits. Help!
If the Vane hits early in its path, please contact us to discuss options such as the Stubby Vane or a shorter shaft.
However, if the Vane is able to incline to most of its capability, it can still do its job.  In this case the vane will reach/hit the obstruction only on certain points of sail. Because the vane will be well deflected before it hits, it is not a big problem for performance, only a nuisance. The vane can deflect through most of its motion causing the rudder to turn and get the boat back on course… which means the Hydrovane can still do its job. So often the vane is almost quivering as it deflects from side to side by the smallest amount. In many conditions the vane rarely fully deflects.
To deal with the 'hitting' of the vane against the arch or support:
Improve sail trim so that such dramatic course corrections are not necessary
Change the inclination of the vane – change its axis – so it clears the support
Change course by a bit
Put a piece of foam on the section that it hits to soften the blow, reduce chafe of the vane cover, deadens the annoying hit sound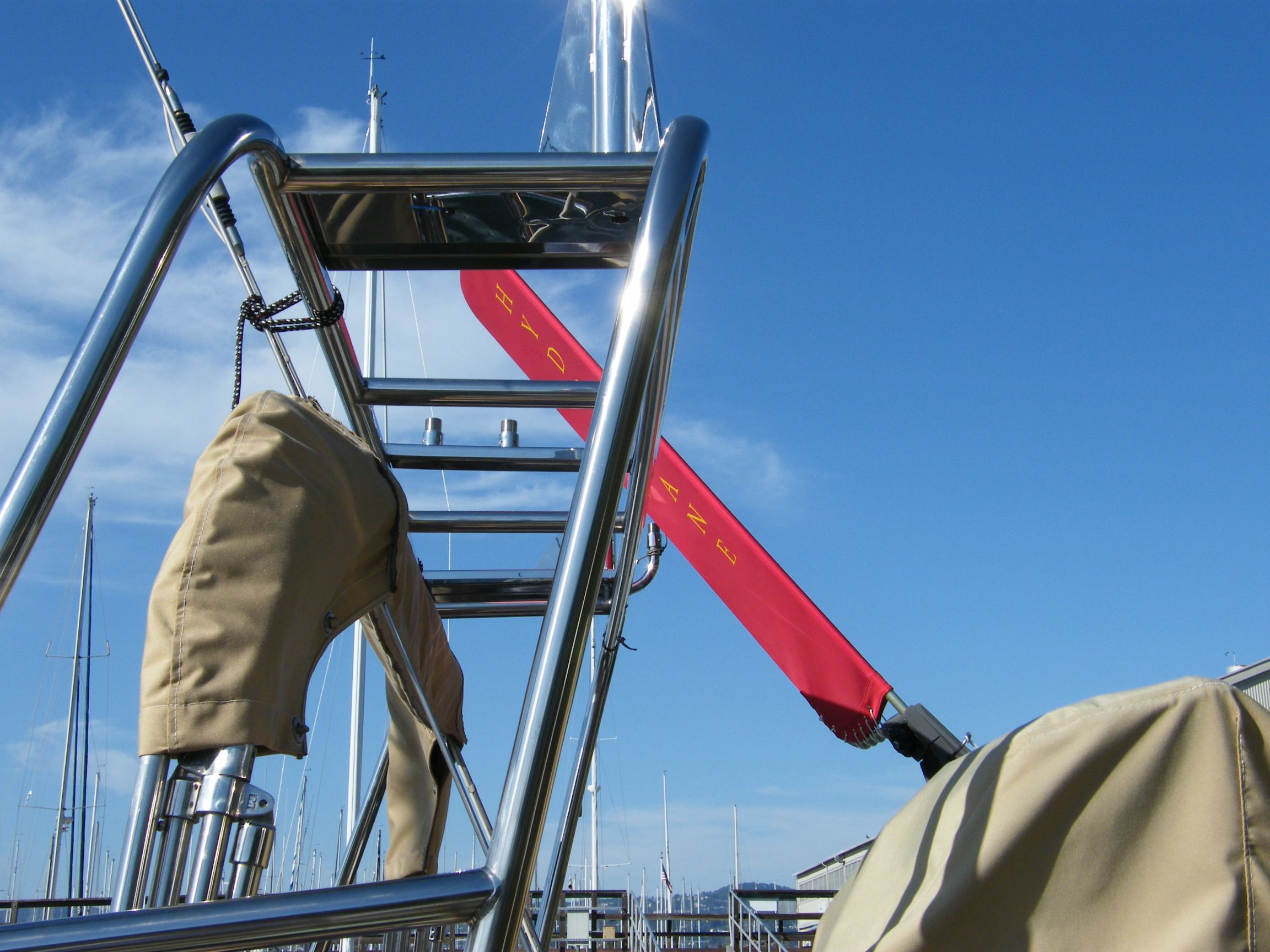 5
//
You have quoted the 'A' or the 'E' bracket. What should I consider?
If we have quoted both options for you, then both will certainly work.
In all situations where there is a choice, the 'A' is the preferred bracket for strength and ease of installation. However, the cost is higher.
The maximum length tube for the 'E' Strut is 18 inches. The system is designed to handle that much lateral load, but we will not supply a longer tube.
You should consider your hull construction – how flimsy is the transom? The 'E' flange will probably attach in the open area of the transom, not near an edge where there is more fiberglass and structural integrity. If the fiberglass may flex then it is only a matter of time before a failure will occur. The Hydrovane must be absolutely rigid. This is a matter of how well your boat is constructed.
In addition to construction, what is your boat's displacement? For heavier displacement boats, the 'A' would be more strongly recommended as the loads will be greater.
Another consideration is whether the bracket in question will be in the upper or lower position. The lower bracket takes the majority of the lateral load.  For this reason, we would also highly recommend the 'A' bracket in the lower position.
Finally, is the unforeseen: a collision with a floating object or more likely errant vessels in a marina. An 'A' bracket is simply stronger and able to withstand loads or blows from directions other than what it was designed for.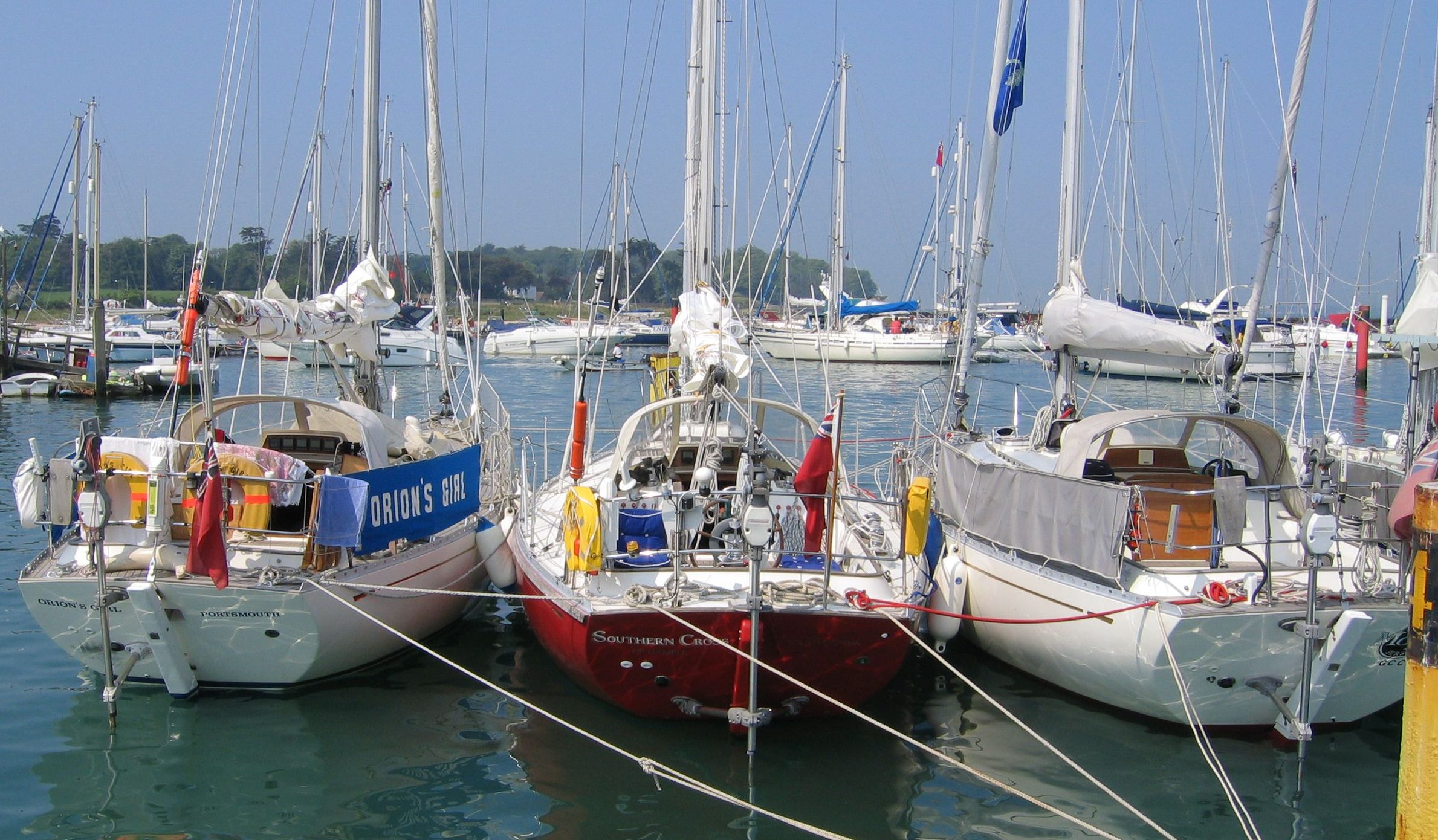 3 Rustler 36's

6
//
You have mentioned the 'XT' Vane. What is it and why is it better?
The XT Vane is Extendable – can be raised or lowered. Raised for more power in lighter wind conditions. Lowered for stronger winds when the wind itself is providing plenty of power.
'Leverage' is the key. Leverage is the mechanical advantage or power gained by increasing the action of the lever. The Vane is the lever. Power of the Vane increases exponentially with increasing surface area and distance from its pivot point.
We strongly recommend the XT Vane for heavy displacement or fast boats.  Ketches also enjoy the ability to rake the XT Vane to a horizontal position when tacking or jibing.
All Hydrovane owners would enjoy its extra power to deal with light and medium wind conditions. We readily encourage HV owners to upgrade to the XT Vane – unless they have an overhead arch that precludes using the extension capability.

7
//
I would like to install a tillerpilot for motoring or light airs. Which brand?
This is a fantastic solution for light airs or motoring.
You can purchase the cheapest, lowest spec tillerpilot. The Hydrovane rudder is semi balanced and therefore takes very little effort to move.
The retrofit is very simple as the Hydrovane tiller is already in place and designed for accepting extensions.  A ¾ in / 2 cm outer diameter extension must be made to extend this tiller and readily adapted to whichever connection is required by the tiller pilot manufacturer. The pilot itself needs to be fitted nearby, either on the deck or rail or attached to the stern pushpit.
We used such a set up – with Raymarine 1000 – on our last boat which had a temperamental below deck autopilot that we never worried much about (or bothered to fix)!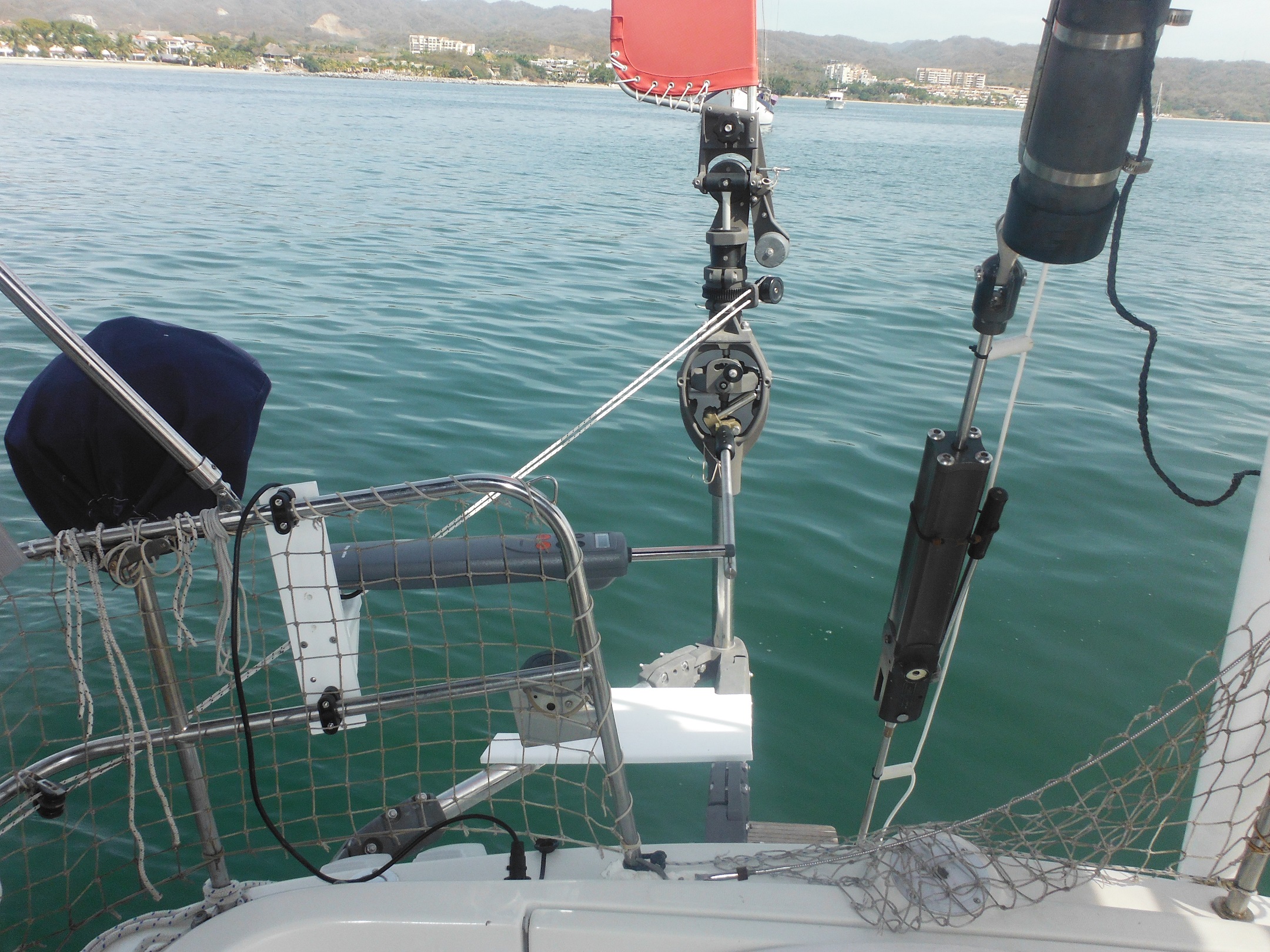 Tillerpilot on Beneteau First 405
I have also fitted a new Raymarine Tillerpilot which works on the Hydrovane short tiller stock when there is no wind, giving full autopilot control…

And how does it work? Fantastic in a word!

So – full marks to Hydrovane – wonderful kit and when matched to the Tillerpilot I think the combination is excellent.

– Tradewind 35

8
//
What is the difference between the VXA1 and VXA2 model?
Both are variations on the only model available today, and since 1986. The majority of Hydrovanes sold are the VXA2 model; the remote course setting capability is well worth it. A VXA1 may be suitable for a smaller cruising boat with an arm's reach from the cockpit to the Course Control Knob. 
VXA2 Drive Unit Model – Remote Course Setting
The purpose of the Remote Course Setting Assembly is to change or set the course. It allows you to move the entire upper section of the unit in order to get the leading edge of the vane into the wind. On the desired course the vane should be positioned with leading edge into the wind – 'in irons'.
To use the remote course setting there is a line that is set-up like a clothesline – an endless loop – to somewhere handy to the cockpit. It's usually attached by a bungee cord somewhere along the lifelines. The line can be as long or as short as needed. A little pull on that line moves the vane a tiny bit – perfect for fine tuning your course. Three or four full arm's length pulls would tack the boat.
VXA1 Drive Unit Model – Manual Course Setting
The VXA1 is a more basic mechanism – only a course locking knob, aka 'Course Clamp'. One has to muscle the vane to the desired heading and tighten the knob. Because it is more basic, there is a cost savings.
If you have a VXA1 Model that you wish to upgrade to a VXA2, that is certainly possible. We can supply the parts required to do so.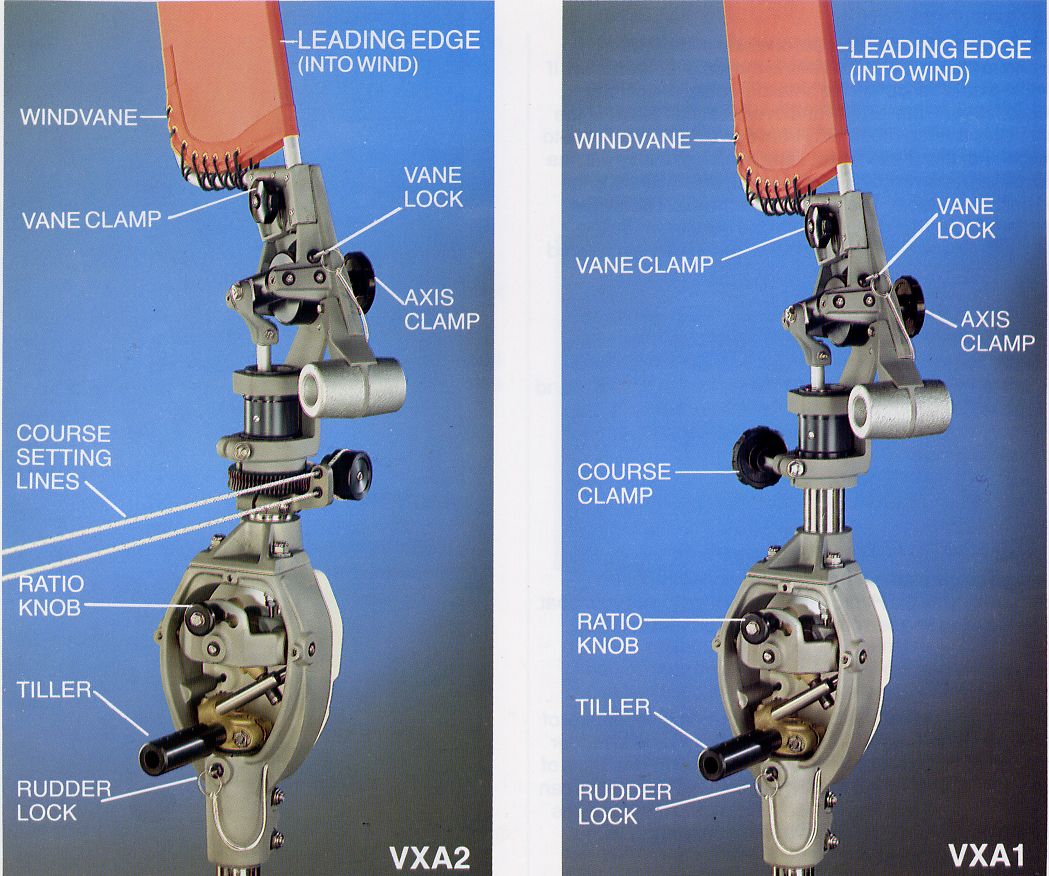 ---
Operation and Performance
1
//
How can the Hydrovane rudder steer a boat as well as the main rudder?
To begin with, the Hydrovane rudder is not small. People who get to see it are often surprised at the size. Today's rudder has a surface area of nearly 3.5 sq ft, or 1/3 of a sq m. It provides plenty of steering power, especially because of its leveraged position so far aft.
What is important to note is that the main rudder is locked – not on the center line but in the sweet spot that compensates for any weather helm – making for a perfectly balanced boat when 'on course'. The main rudder, although fixed, is very significant in its steering contribution:
Acts as a giant 'trim tab' – compensates for weather helm
Provides directional stability
Boat biased to hold course and will know exactly when it is back on course
Improves boat motion
Makes the Hydrovane's job much easier – its rudder only kicks into gear once the boat heads off course, and the Hydrovane semi-balanced rudder is very nimble, with near immediate response
The simple answer to the question is that "two rudders are better than one".
When comparing to other types of windvanes that steer using the boat's main rudder, there are some misconceptions.
For example, some may initially think that using the boat's main rudder to steer (such as with a servo pendulum windvane), would provide more steerage. However, those units only pull a line by about 10 in (25 cm), which is about enough to move the ships wheel a half a turn in each direction (typical wheels have 3 revolutions, stop to stop). That is all that is needed – not much, and certainly not the rudder's full potential.
The fact is, large boat rudders are needed only for maneuvering at low speeds, especially in marinas. With incremental boat speed less, less rudder size is needed. Notice the America's Cup helmsman doing only the slightest movement of their wheels.
The Hydrovane rudder has been improved on over the years. We are now steering much heavier boats thanks to these changes:
1986: change from fiberglass on foam to solid cast nylon… virtually indestructible!
2006: length increased by 5.5 in /14 cm
2009: thickened by adding 5 lbs /2.3 kg – now weighs 23 lbs /10.5 kgs (half in water)
Summer 2009: version developed by our in-house engineer, Ted Hargreaves. Ted inspired the upgrade based on his aeronautical experience with foils. After the first test Ted reported it was much more powerful but so light to the touch – easy to control – couldn't believe that it could be that good while also being so very stable. It is a vast improvement. We strongly recommend the upgrade for any owners with older versions of the rudder who would like the extra power.
2022: Our 

newest

 

rudder

offers more surface area and lower drag than any of our previous models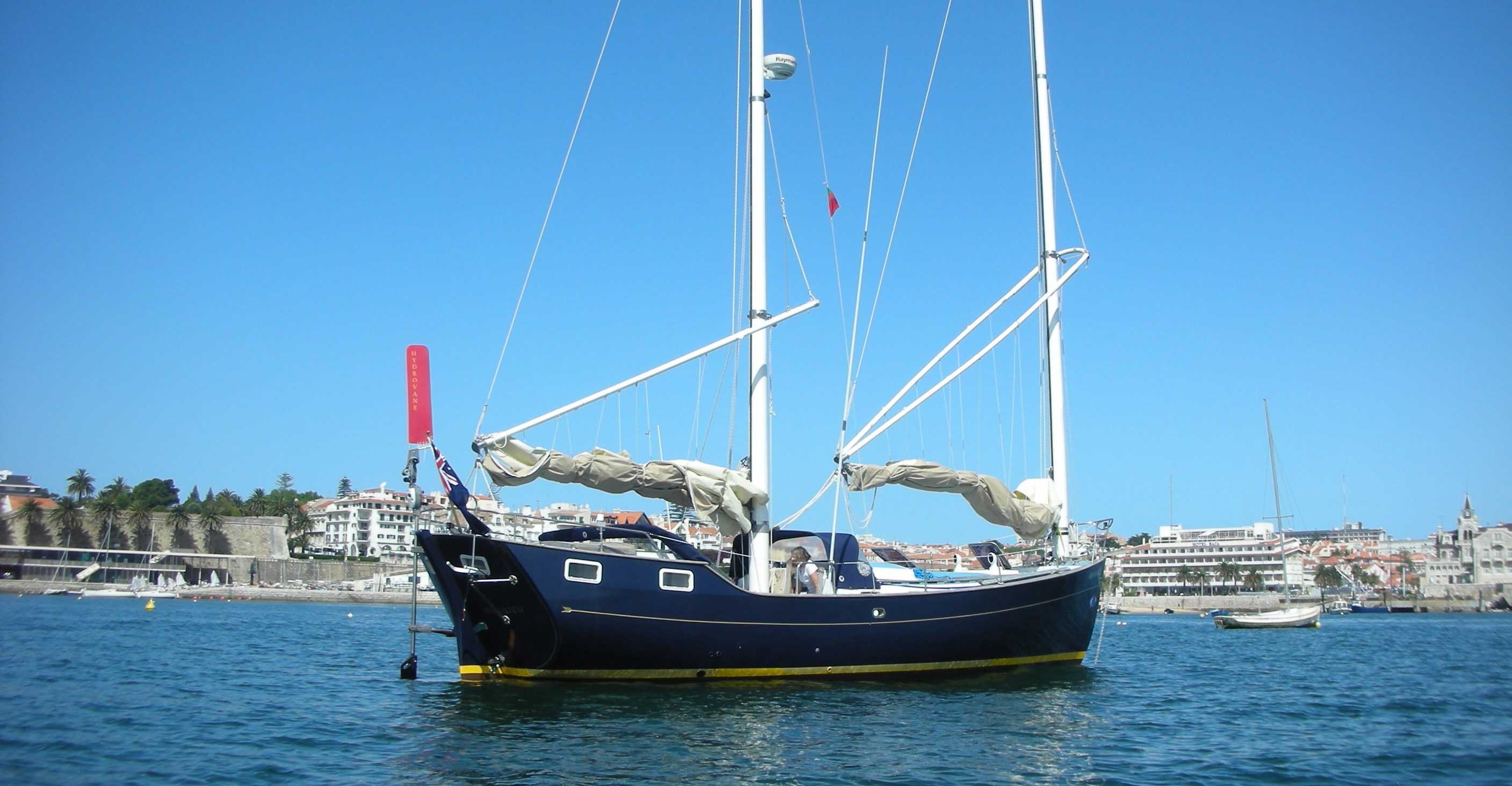 Freedom 40

2
//
How can the Hydrovane provide enough steering power?
The prior question describes the 2 rudder system of which the Hydrovane has a key role. The main rudder is set to stabilize the boat 'on course'. The Hydrovane's job is to get the boat back when it strays from being 'on course'. Its power comes from:
LARGE VANE – far larger than those on other types of windvanes. If there is any wind about, our vane will find it.
LINKAGE from the Vane to the Rudder trebles its turning power
LEVERAGE – Rudder is located further aft from the boats centre of balance which means it has more leverage – can punch above its weight. Hint: Why is a door handle at the furthest point away from the hinge and not in the middle of the door?
Rudder is a true NACA foil – means minimal drag
Rudder is nearly balanced – takes little force to turn it.
The normal settings for operation involve a de-powering of the unit as there is usually more power than is needed, especially in heavy conditions.
It has performed flawlessly so far… The Hydrovane actually had so much power that it was over steering until I put it the middle gear. Then it was perfect again. I mention that b/c I almost didn't buy the Hydrovane b/c I was worried about it having enough power to steer.

– Roberts 44

3
//
How effective is Hydrovane in heavy weather?
In the 2018 GGR (Golden Globe Race) solo nonstop circumnavigation, the winner, Jean-Luc Van Den Heede, never hove-to nor ever locked off his Hydrovane in heavy weather over the entire 7 months on his Rustler 36. In all the storms of the Southern Ocean he always kept his Hydrovane engaged. One takeaway from that is that in heavy weather the Hydrovane should always be engaged. If locked off the rudder cannot swivel to absorb the blows when the boat is thrown around. The risk being a bent shaft.
For the rest of us there are times when the technique of 'hoving to' is a practical solution when the going gets tough. The purpose is to stall the boat so it is hardly moving ahead but pushing sideways.  The wake is no longer at the back of the boat but on the windward side. Hence water coming up from the underside of the boat to create a calming effect to the oncoming seas. Well, 'calming' is an overstatement but it will take some of the punch out of sea. The method is:
Reduce sail to the smallest piece of cloth. A small staysail is best, second best is a deeply furled headsail or main or storm sail.
Sheet the sail hard on one tack heading upwind
Then crank the wheel or tiller hard over in the upwind direction – backing the sail
Adjust the Hydrovane to keep the boat stalled – vane into the wind
We emphasize that the Hydrovane should always be engaged in heavy weather. The notion of locking it off to hand steer or use an autopilot is flawed. Those two methods have too many limitations. Far better to get the amount of sail down to a minimum – just enough for stability and if needed slow the boat down deploying a drogue or warp. Warps are best. Drogues are too hard to retrieve. Too many experienced sailors advise keeping the boat heading forward – safest for the main rudder.
Another storm tactic preferred by cruisers is fore-reaching – keep the boat moving forward to windward at greatly reduced speed. Fore-reaching can be a better alternative to heaving-to in certain situations. Engage your Hydrovane on this point of sail and hide out down below!
You will be pleased to learn that the Hydrovane saved both Summerbird and me.

Without it I would have been in distress.

…

The storm lasted 36 hours but as Summerbird went through the eye there was a lull between the two nights of 60-70 knots. The vane was lowered to about 45 degrees and was set 90 degrees to the boat's heading. The ratio control was on the extreme left setting. The Hydrovane rudder was not lashed but the boat's rudder was lashed midships. 

– Warrior 40 Owner, after the OSTAR 2017 encountered a massive storm
… the performance overall was amazing! …with a solo journey of just under 4000 miles (Grenada to Largs on the west coast of SCOTLAND, it came into it's own in the first two weeks of the trip. The wind increased from 20 to 40 kts. with gusts to 50+. With the waves hitting from various angles it became very uncomfortable and to be able to leave the VANE "in charge" was a great asset. To the credit of the equipment I did allow myself 2 hour sleep periods and was confident that I would not wake up to any disasters.

…only days into the trip I was blessing the day I decided to install it.

– Moody 44
Our first experience with heavy weather had us in 40 kts continuous with gusts to 50. The seas were very big (regrettably a couple of really big waves broke on the boat and in the cockpit resulting in a fair amount of water down below; -( Initially we did not believe that Wanda could steer under these conditions, especially when the boat was surfing down really big waves. However, I eventually decided to give her a try based on the "testimonial" in the owner's manual, and she did absolutely fine.

– Beneteau Idylle 11.5
…our Hydrovane (James) just got us from Funafuti in Tuvalu to Pohnpei in the FSM (1688 nautical miles) doing 98% of the steering.  That included 35-40 knots of wind and 20-25 foot seas on a broad reach.  We only had up our small forestaysail and took three reefs in the main and we were still going well over 7 knots most of the trip.  What a champ.

– Liberty 458

4
//
How well can the Hydrovane perform downwind or on a broad reach?
Very well, but the trim of the sails and balance of the boat determine how well the Hydrovane can do its job.
The toughest point of sail for any helmsman, autopilot or windvane is the broad reach in a boisterous sea. Headsails contort and maybe even fold as the boat gyrates along in rolly conditions. The trim of the boat is constantly in flux. The key is to stabilize the headsail with a pole and keep a good preventer on the mainsail so everything is rigid.
Is your headsail a genoa? A big sail with a long low cut foot with a clue near deck level (also known as a deck sweeper) is designed for racing – upwind – and not at all versatile for the needs of a cruiser. You may want to consider having a sailmaker cut a new clew that effectively makes the sail nearly an isosceles triangle (leach and foot are nearly of equal length). Coincidentally a '140' genoa becomes about a '110' yankee type jib which is an ideal sail for cruisers. As its sheet is slacked off the sail evenly changes its shape. Another big safety bonus of this re-cut sail is the improved visibility.
Get used to having a poled-out headsail (ideally jib with high cut clew). In any sea you don't want the headsail to be guilty of corrupting the balance as it twists, collapses and fills while the boat careens up and down waves.
You also need to ensure you have a proportional sail plan: a similar surface area of headsail and mainsail for a wing on wing configuration.  And make sure to reduce your sail plan evenly.
Like all other points of sail the Hydrovane can match or better any other system, but it does need help in doing its job – it demands a 'balanced boat'. The Hydrovane is the teacher. When it is not coping something must be done, and once the problem is solved the results are blissful.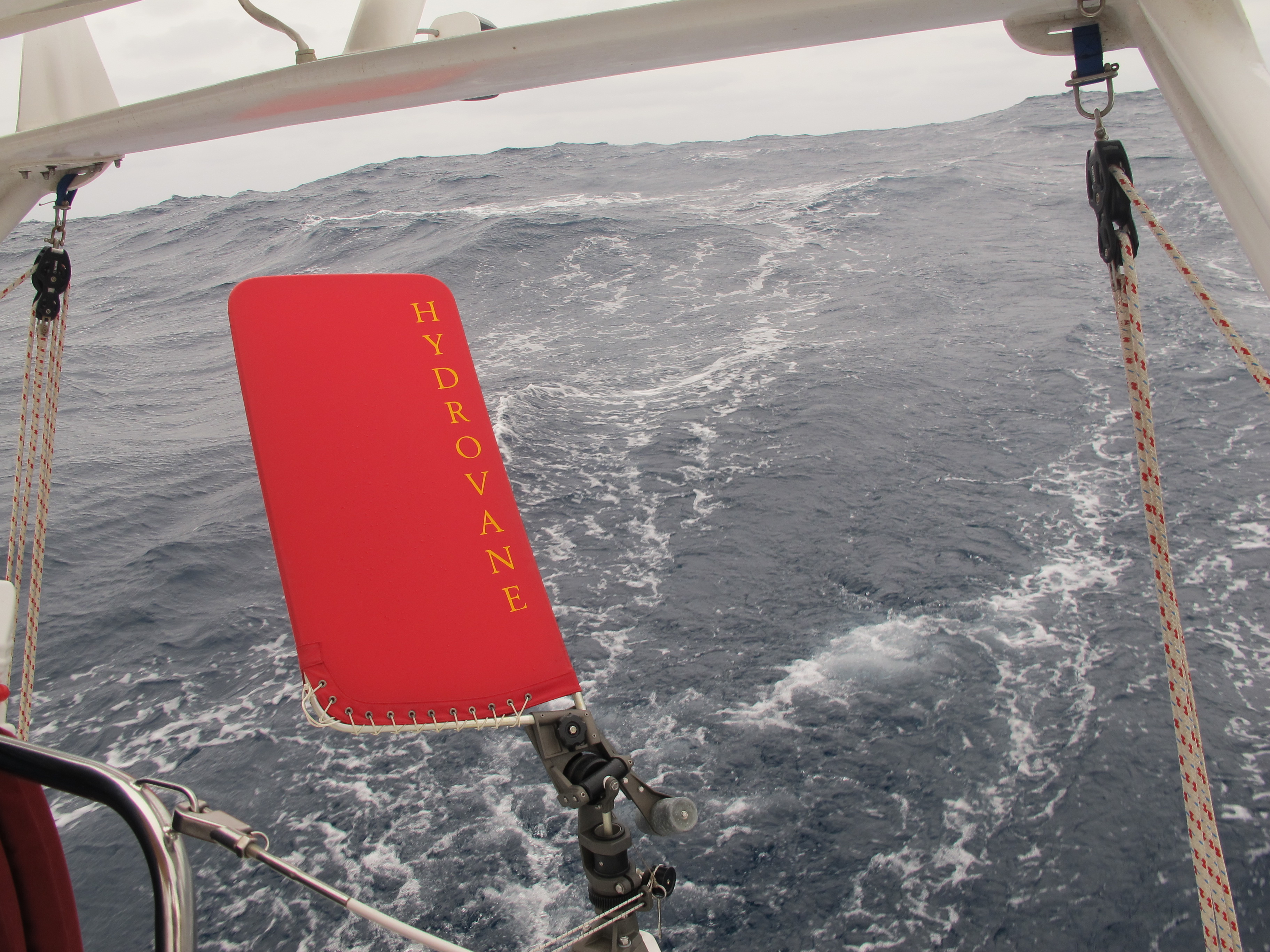 'Jane' steering on a broad reach in big seas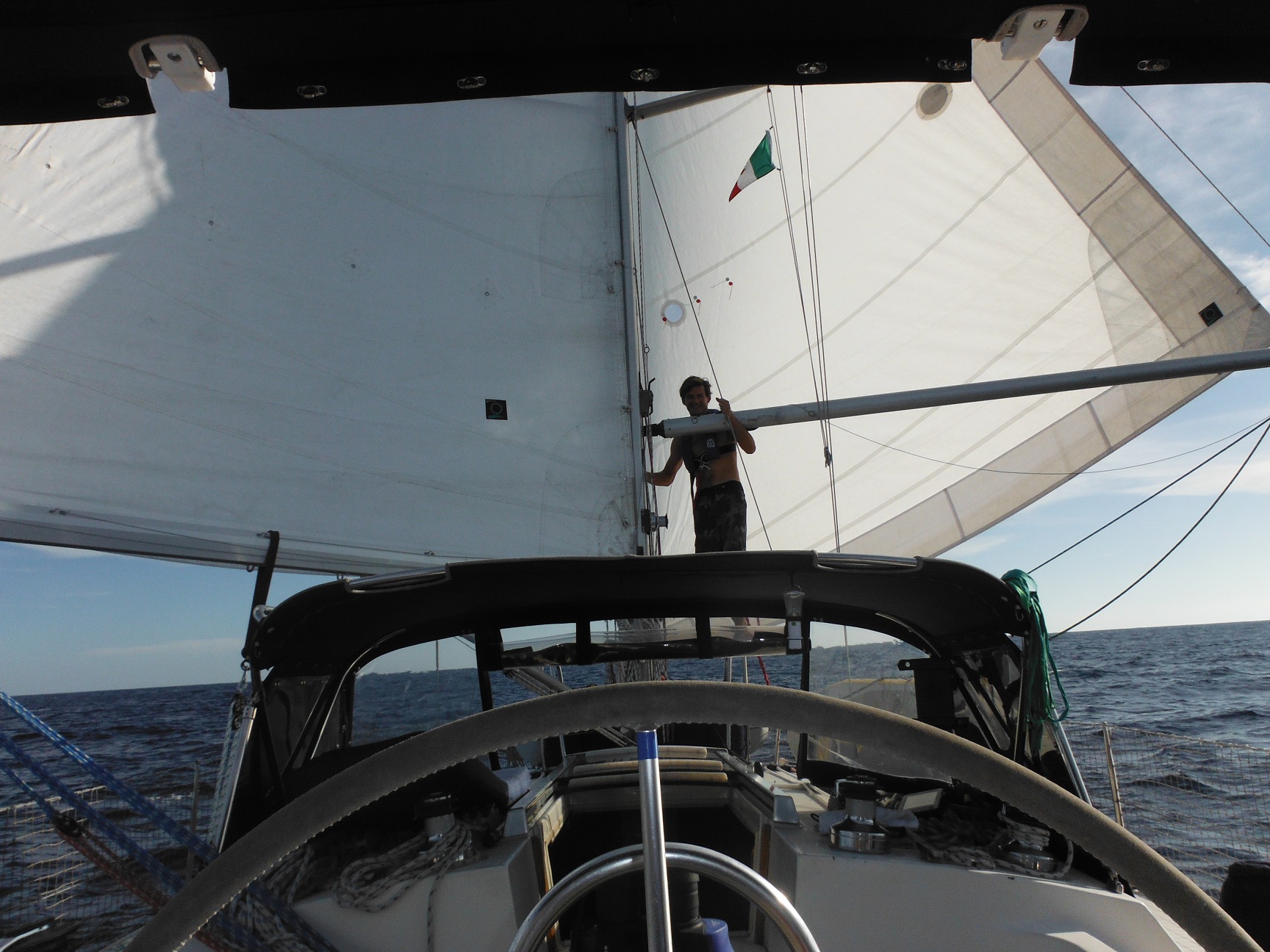 Downwind sailplan
Performance was flawless in 8 knots of breeze wing on wing and broad reaching with the kite.  The best fun was the night-time broad reach across a star-lit northerly gale off Cape Mendocino with bioluminescent breaking seas and the vane steering us at a 7+ knot average boat speed, surfing in the high 8's.

– Ericson 38
The boat is good, the Hydrovane is perfect! I set the course, balance the rig, and just move the lever over to position 1, far left. It then takes over, quietly, with very little effort. I use the stubby vane and it steers my 40 foot boat along perfectly! The system never seems to be out of control and it does not seem to mind the big swells and wind.

– Cascade 36

5
//
Tell me why you say the Hydrovane is superior in light airs?
Downwind with light air is the achilles heel of all windvanes as there is less apparent wind to drive the vane.
However, the Hydrovane unit has very little inherent friction. Usually if there is enough wind for the sails, there will be enough wind for the Hydrovane's large vane.
Other systems (servo pendulum) do not do as well in light air because in order to function the boat must be moving in the water, and there is all the other friction to overcome in the lines and main steering system.
We discovered why our insurance company loves Hydrovane and we soon came to love "him" ourselves.

We departed from Academy Bay, Santa Cruz, Galapagos on 15 April and ran SW for the first few days with light winds between 4 and 12 knots, with the cruising chute pulling us along and 'Barret the Hydrovane' doing all the work. On 17 April a False Killer whale swam alongside the yacht, so close that Carol's toes are in the photograph.

– Beneteau 423
I want you to know that our Hydrovane turned out to be a super good steering system.  It steered our Norseman 447 all across the Pacific and worked great from light winds on the stern to strong winds on the bow.

– Norseman 447

6
//
What are causes of poor performance?
Typical Hydrovane owners marvel that their Hydrovane's performance is superior to any helmsman or even their autopilot. There is no reason why the Hydrovane should not be used 100% of the time when sailing.
A Hydrovane, like any other windvane, will perform beautifully on any boat that sails well and is easily holding its course. If it is easy to helm it will also be easy for the Hydrovane.
The causes of poor performance are often:
Unbalanced boat – difficult to steer by human or autopilot
Unbalanced sails – sheeted too hard or over-canvassed
Main rudder locked on the centerline when it should be set in that 'balancing position'
Baggy sails – old sails are harder to trim
Improper installation
Faulty set-up – rudder not centered, bearings are binding, too much play, etc.
Adjustment features not being used properly – ratio control or inclination of vane
Overbalanced Hydrovane rudder – We had a short run of rudders in late 2009/early 2010 that are 'overbalanced' and do not perform well on all boats. See more in Troubleshooting and contact us if your rudder is from around this time.
Most of these are discussed further under Instructions/Troubleshooting.
Experienced racers invariably report that when they initially engage the Hydrovane for their first sea trial, it works perfectly requiring no adjustment. Racers are attuned to sail trim and intuitively trim their sails. This is not always so for the typical week-end cruiser who may be used to setting the sails and turning on the autopilot with little attention to how much work the autopilot must do to hold course. Their first experience with the Hydrovane might not be as perfect. They must treat the Hydrovane as the teacher: if it is not happy the answer is usually in the sails.
The Hydrovane is a wonderful companion who only has one disadvantage: leads to martial strife about the name! 

I want to give it a man's name as it is solid and reliable and does not talk back or let one down, but my wife wants to give it a woman's name as it is slim and elegant, longsuffering and just gets on with its work without making a big hoo-ha every five seconds.

We have compromised and now call it/him/her the rather unmacho Francis/Frances or now just Franny.

However I got caught out the other day saying "Think I'll set up the Fran-man."

She was not amused at my amendment, but Fran-girl sounds too goofy even for her.

– Ian, Freedom 40

7
//
Does the Hydrovane have difficulty on long keeled boats?
A long keel boat does have more directional stability than a fin keel. Once trimmed and balanced it will hold its course better than a fin keel but conversely, once off course it does take more effort to get back on course.
A Hydrovane has no problem with long keeled boats – unless there are trim and balance issues that only need some attention.
During the entire cruise I think we had the wind from every conceivable direction and at every possible strength from flat calm to Force 6 … I am pleased to report that in all conditions, in anything of a breeze and above, the Hydrovane worked perfectly. You may remember that my boat has a long straight keel and displaces about 16 tons so it had a fair amount of work to do.

– Transworld 41
Weather varied from 35 knots on stern quarter in 10-12 ft seas in Gulfstream to becalmed. The Hydrovane was wonderful. With a heavy full keel boat like the Whitby it does a remarkable job. It has exceeded my expectations.

– Whitby 42

8
//
Does chronic weather helm affect performance?
Every boat should have a bit of weather helm – helps the helmsman feel his way. That does not present any problem.
However, chronic weather helm has a significant effect on any steering system. The auxiliary rudder system has a big advantage in that the main rudder can be set to compensate for the weather helm. This does work but only until the wind strength changes, causing the amount of weather helm to change and meaning a re-adjustment for that locking position of the main rudder.
So, it does solve the issue but it is more management intensive than one would like, all depending on the extent of the weather helm. We did meet one customer who had severe weather helm and found he could cope well enough. Then he went to the effort of solving the weather helm by re-stepping his mast to where it should have been. He reported a phenomenal difference and a blissful performance of the Hydrovane with the improved boat configuration.

9
//
How do I disengage the Hydrovane to make a quick course change?
You don't necessarily need to disengage the Hydrovane. For example, if you see something in the water up ahead, simply unlock your wheel or tiller and use your main rudder to make the quick course change.
Your main rudder will always overpower the Hydrovane rudder.
In a situation where you do want to disengage the Hydrovane, it only involves 'clicking' out of gear. Very easy and quick.

10
//
Can my Hydrovane function in tandem with my autopilot – both at the same time?
Most certainly.
This is a feature of only auxiliary rudder systems, and is such a convenience and comfort. It is truly another huge benefit when comparing to servo pendulum systems which do not have this ability.
Most often this tandem function is an easy management technique while engaging (or disengaging) the Hydrovane. Once sails have been adjusted and control achieved then the autopilot can be turned off. Finally you take the wheel or tiller and find that 'sweet spot' or position to locked it off. It is that simple.
It is very useful to be able to flip on the autopilot in fast changing weather conditions.  For example, if a squall catches you and major sail adjustment is quickly required, both can function together until you have managed to reduce sail.
This technique is also ideal for the aggressive sailors – for surfing conditions – to compensate for rapid changes in apparent wind direction. While the Hydrovane is steering, also set the autopilot to respond only for course deviations greater than 10 degrees or more (low gain setting) – so the autopilot is dormant most of the time and only activates when needed.
The Hydrovane is proven to be quite capable of steering the boat in very high winds. However, in major storms some have used this technique as it is so comforting to deploy the maximum steerage power (or, in other words, less work for both your Hydrovane and autopilot). That could be the case in the early hours of a storm when the seas are square and chaotic.  Once the storm has blown for a while and the seas become more regular then the autopilot can be turned off.

11
//
Will the Hydrovane rudder make my boat more difficult to maneuver?
Most choose to install the Hydrovane rudder for passages, and remove before entering a marina.
If not possible to remove, the Hydrovane rudder should be locked in the fore and aft position for motoring and coming into a marina. Yes, you will probably lose some maneuverability.
However… if you have an extra pair of hands who can operate the Hydrovane tiller and rudder you will find your ability to turn in tight spaces considerably enhanced as the rudder is further aft – more leverage, cleaner water.
We recently saw a great idea in action (thanks Steve & Sally, Tradewind 35)! Two bungee cords attached to an extension on the Hydrovane tiller to keep the Hydrovane Rudder fore and aft.  When needed, easy to reach behind and turn the tiller one way or another for added maneuverability (or to help overcome prop wash). As soon as you let go, the bungees pull the tiller back to center. Steve's maneuverability of this full keel boat in the marina was impressive!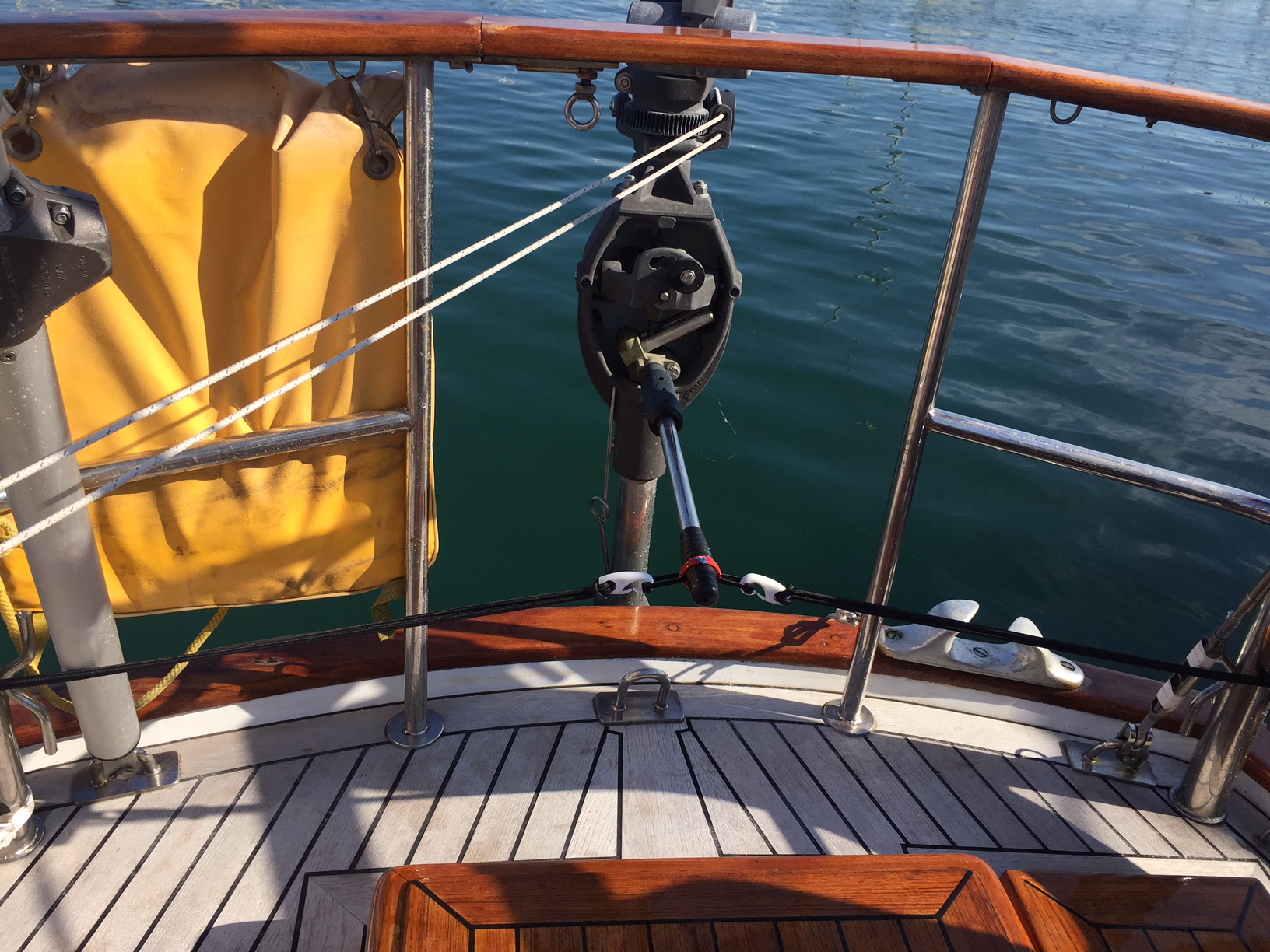 Besides the benefit of self steering a huge benefit for this boat has been the ability to maneuver in anchorages and marina's better by coordinating the Hydrovane's rudder with the ships rudder.  This boat doesn't have a tight turning radius and has a mind of it's own in reverse.

But with the Hydrovane rudder combined with the ships rudder I have gained a much tighter turning radius and have more than doubled my ability to control it in reverse.

– Hans Christian 41T
Through all the ahead and astern in the fairways the boat handled exactly as I would expect – it was only the following morning that I realized that the Hydrovane rudder was on and locked. I hadn't even thought about its effect at the time and it had no impact on boat handling in either ahead or astern. I couldn't have asked for anything better!  Brilliant.

– Oyster 406
One additional benefit of the Hydrovane [in comparison to other auxiliary rudder systems] is the ability to remove the rudder when we are motoring long distances, and in areas where maneuverability is at a premium. Since our unit is mounted two feet aft of the transom, removing it greatly reduces our turning radius and improves maneuvering in reverse.

– Bristol 29.9

12
//
How do I remove/install the rudder?
The rudder is designed for 'quick release' – takes seconds. It is held in place with with the Rudder Locking Pin. You can pop that pin out with a boat hook and the Rudder will drop off the shaft. Caution, if not secured by a strong tether line, it will go straight to the bottom!
Installing the rudder is just a matter of re-inserting its Locking Pin. It helps to have the Shaft fixed with the Shaft Locking Pin. Then you can pull the rudder up on the shaft and insert the Rudder Locking Pin at a right angle to the shaft. There is an 'R' pin to on the opposite end of the Locking Pin as a 'keeper'.
Always put the rudder on before you head to sea.

13
//
Should I antifoul the rudder?
Ideally you will take the rudder off as often as possible – when at anchor or in port. Taking the rudder off means less wear on the shaft bearings and rudder hole, and less time in the water so there is no need to antifoul.
That being said, if it's more difficult to remove on your boat, antifouling is just fine. It will be a bit messier when you do store it aboard. Scuff the rudder up using some sandpaper and paint with a non-ablative, hard paint.

---
Construction
1
//
Why don't you do a hinge on the rudder?
This was a favorite project of our engineer. The limitations that need overcoming are the usual: reliability, cost and aesthetics.
We absolutely cannot introduce a weakness into the system. That rules out a simple hinge… and unless it is a monster then the aesthetics kick it out. We are also loath to add this length to the back of the boat.
The loads on a Hydrovane are many times the load on a servo pendulum system. We have seen customers who have devised clamping hinge arrangements that are functional but not acceptable for commercialization.  The manufacturer of Aries windvanes once told us that a Hydrovane owner came to him determined to buy one of their hinge flip-up systems to adapt to his Hydrovane. Apparently he did install it but didn't make it out of the harbor before it broke.
We have a rotating scissor notion that we are working on: a drop down on a swivel. Again, it has been put on the back burner because of various 'stoppers' and more practical projects.
So – maybe someday, but the minute or two it takes to put on or remove the rudder is something we all get used to. At least the Hydrovane rudder can be removed, unlike most other types of auxiliary rudder systems.

2
//
How strong is the Hydrovane?
The Hydrovane is heavily constructed and is, generally, stronger than it needs to be.
Other types of windvanes are ancillary to the boat's main steering. They do not have to bear the loads of directly steering the boat as the Hydrovane does. Not only must the Hydrovane be so much stronger as it is doing so much more, but we have made it tougher yet to ensure its reliability in the worst of conditions.
The Hydrovane is a wonderful companion who only has one disadvantage: leads to martial strife about the name!

I want to give it a man's name as it is solid and reliable and does not talk back or let one down, but my wife wants to give it a woman's name as it is slim and elegant, longsuffering and just gets on with its work without making a big hoo-ha every five seconds.

We have compromised and now call it/him/her the rather unmacho Francis/Frances or now just Franny.

However I got caught out the other day saying "Think I'll set up the Fran-man."

She was not amused at my amendment, but Fran-girl sounds too goofy even for her.

– Ian, Freedom 40

3
//
What materials are used? Is the difference of metals a problem?
You will delight the Hydrovane's proven engineering and robust construction. Our easiest sales are always to engineers and machinists… as they know.
The rudder is made of solid 'N6' nylon. The same material that is used by pile drivers – installed on the top of the pile to absorb enough energy so that no damage is done on impact between the pile and the driver! No doubt it is the biggest piece of nylon that one might ever see. No other manufacturer uses nylon and no other manufacturer uses an NACA profile – a true foil – has a hydrodynamic shape.
The majority of the castings are LM25, a high magnesium aluminum alloy of superior marine grade. The castings are all hard anodized – high quality and designed to minimize electrolysis. The use of such castings provides for optimal strength and complex connections. They provide strong connecting points at critical junctures.
There are also two bronze castings.
The stainless steel is all marine grade '316', except for the inner Shaft which is Super Duplex stainless steel (since 2009) – a steel that is 3 times stronger than '316'.
There is not a single weld on the unit.
Separation between metals has been provided for at all critical joints with plastic (delrin) sleeves.
Of interest, we do have the stainless tubes of the brackets clamped onto the aluminum castings. A bit of oxidation does occur in those joints (ameliorated by the anodizing) – which we like as it produces a sort of weld.
The only other items that are not separated are the grub screws – 8 of them. All mast builders and manufacturers of marine equipment often employ a mix of stainless and aluminum. Care must be taken as there are do's and dont's of mixing such metals but they certainly can be used together – never large pieces in contact, and the quality of aluminum is important. Little stainless steel screws with Loctite (corrosion inhibitor) sunk into our magnesium aluminum have negligible current flow.
You will be impressed when you see the quality and thought behind all of the Hydrovane's components.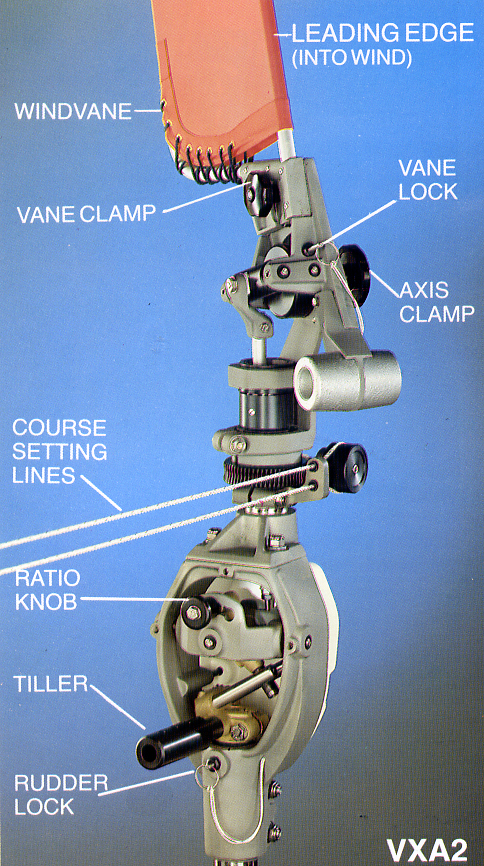 4
//
Where do the materials come from?
The Hydrovane has proudly been manufactured in England since 1968 – in the East Midlands region. All materials are locally sourced.

5
//
What's going to wear out?
Not much. Carry a spare vane cover and some locking pins. The vane covers can last a surprisingly long time but eventually the sun and wind does destroy them. Be sure to take the vane off when not in use.
There are three Locking Pins (#60, 61, 62) – all interchangeable. The Shaft Locking Pin should be changed periodically as it can suffer from metal fatigue. It is the only one that is under some load and suffers when you are motoring if there is any vibration. It's best to rotate the pins from time to time.
Please note that both of these items are easy to 'jury rig': patch the vane or use a screw driver or even a nail to temporarily serve as a locking pin – ¼ inch OD.
The next level of replacement parts requested are things that may wear down during a circumnavigation, after 15,000 nm or so – the Drive Sleeve (#19) and eventually the Shaft Bottom Bearing (#25).
Most people will carry the Offshore Spares Kit, which includes spares for these small parts.
Our business is worldwide, and Sarah can ship parts to wherever you may be.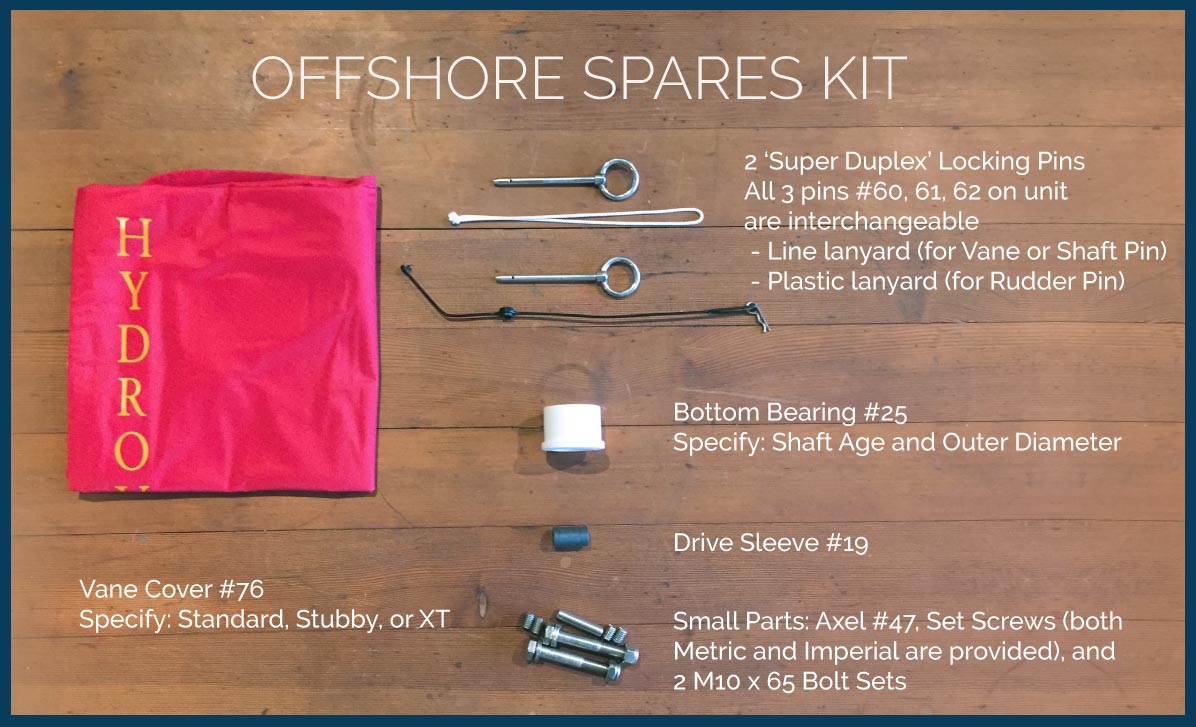 6
//
Why is the Hydrovane so expensive?
The selling price is high because the sales volume is low; It is a niche market.
The quality of the Hydrovane is paramount; Our reputation depends on it.
In comparing cost to other types of windvane, be sure to do a direct comparison. Include the additional cost of adding an emergency steering system which is already an inherent part of the Hydrovane design.
One of the bits of gear I'm most satisfied with is my Hydrovane. 'The Cadillac of Vanes.'

– Islander Freeport 36, quoted from Latitude 38 Magazine
…if I had been pleased with their company to this point, I was still positively surprised when I opened the box and hefted the first components. This is a solid product where no corners were cut, and the quality is evident immediately.

Generally speaking I've heard great wailing, swearing, and gnashing of teeth over most of the other brands, and have heard nothing but praise for the Hydrovane. And having installed mine and seen how it's constructed, I have to say I can see why.

– Allied Princess 36
If the wind was blowing, the hydrovane steered us [29,000+ nm]. I cannot give this device a high enough acclaim: Cunningly engineered, robustly built and very dependable the only parts we have had to replace is a fabric vane cover (eaten away by the sun and the salt) and a nylon bushing.

…without doubt the most valuable piece of equipment on board was 'Casper' – best purchase EVER. I will never own an offshore boat again that does not have this device.

– T40