Hydrovane Early Years
The Hydrovane is the product of an engineer's lifetime passion.
Derek Daniels, an engineer from Nottingham, England, was the founder and inventor of the Hydrovane in 1968. He made it his life's work.
The initial concept was to develop a system better than the standard servo pendulum windvane. Hydrovane and Aries were the first two windvanes on the market in the 60's. An early Hydrovane was used by Herman Jansen for his solo circumnavigation in 1972. Others followed – notably Leslie Powles, whose remarkable non-stop circumnavigation via the five great southern Capes, confirmed its reliablity. The Hydrovane soon gained recognition in England and Europe for its clever engineering and robustness.
Over the years there have been 11 different models (ex. FDA, Series 5000, Series 1200 – VXA-I and VXA-II) although the significant changes occurred in the 70's and early 80's.
These culminated into the VXA-1 / VXA-2 model which has been predominant since 1986 and continues to be developed today.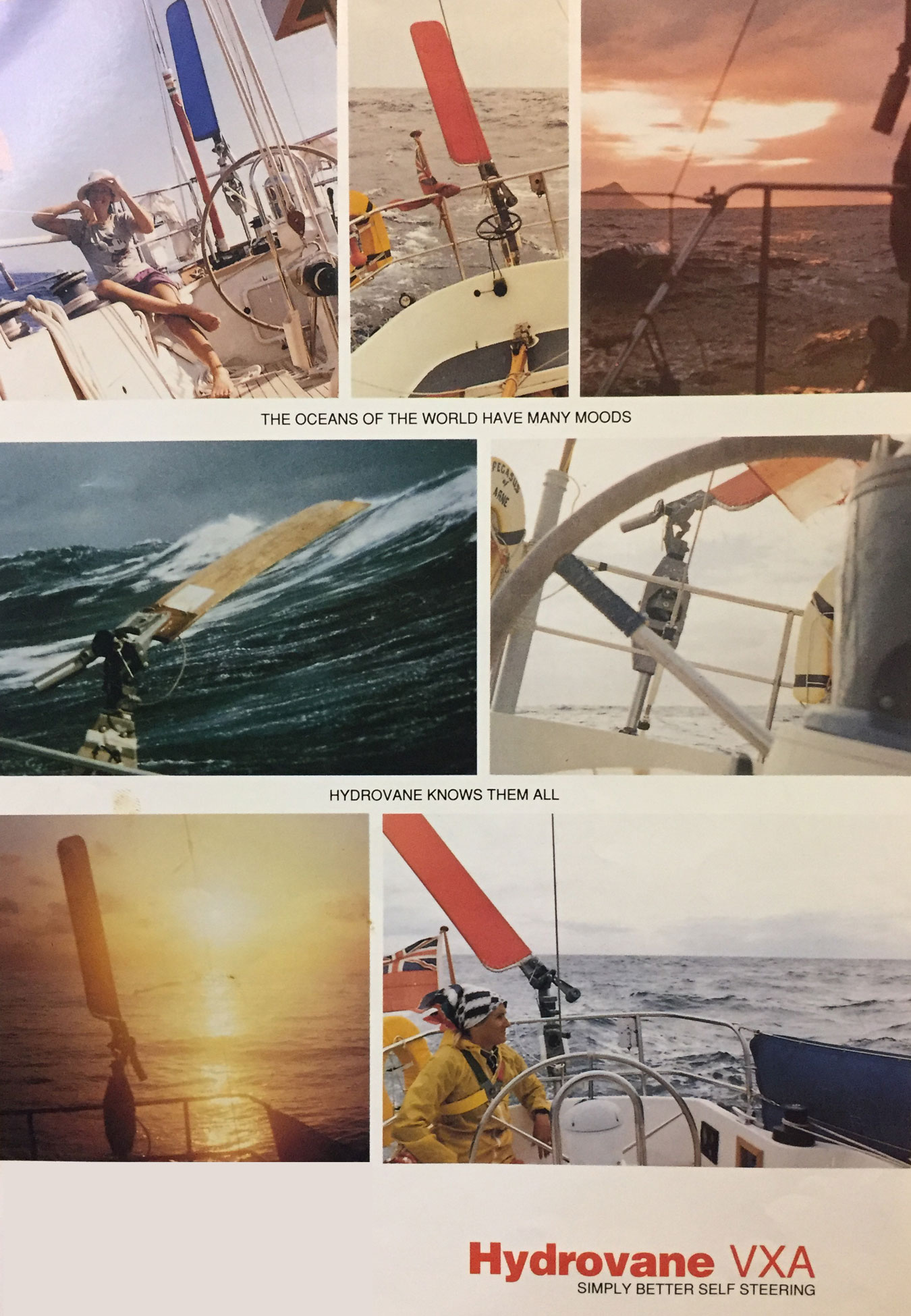 The curry family
The Curry family, owners of Hydrovane since 2002, are passionate about this small marine business… and about cruising!
In the 60's, John worked on a charter boat in Caribbean and sailed in the 1968 Transatlantic race on famous 'Stormvogel'. In the early 70's he and his wife to be, Karen, sailed from Panama to Tahiti. They were married in New Zealand.
Their offshore dream was put back in action in 1995: they took their teenage boys out of school, sailed to Mexico for the winter and back home to Vancouver, Canada, via Hawaii. A windvane steered their Spencer 44 the whole way. Upon return, John resumed his accounting practice and Karen continued teaching, but change was in their future…
In 2002 they began outfitting their next boat, a Spencer 1330, and reached out to Derek to buy a new Hydrovane. They quickly discovered the business was for sale. To make a long story short, instead of just one Hydrovane, they ended up acquiring many!
Son Will joined the business in 2005. He'd already spent years crewing on boats and was up to speed with various types of windvane. Will and his wife Sarah bought their own cruising boat in Mexico in 2012 – at which time Sarah also joined Hydrovane. They sailed across the Pacific in 2013, finding wifi connections in the most remote places to keep up with work! Of course, 'Ernie' steered them 95% of the way. Read about their adventures on their blog and in the video below!
Needless to say, the Curry's core values and dreams are the same as so many of their inspiring customers.
Hydrovane Today
Hydrovane Head Office (sales, marketing, all customer correspondence and order management) is located in West Vancouver, Canada. Manufacturing and assembly remain near Nottingham, England and units and parts are dispatched from there.
Hydrovane is truly a global business in that we supply our customers all over the world… and don't be surprised if you find us working remotely from our cockpit somewhere!
We are proud to build a wonderful product, and have developed a loyal following of delighted Hydrovane users who share our love of exploring the world in the most wonderful way…