Hydrovane International Marine Inc. partnered with Echo Tec watermakers in 2006.

We sell to our customers worldwide and all sales are shipped directly from the Trinidad factory to you, with technical support, parts and service provided by the full resources of both Echo Tec and Hydrovane.

We do not put desalination systems together by buying motors and parts available to everyone.

We do exactly what Siemens or Sony does. We engineer a machine, have suppliers build components to our specifications, manufacture certain parts ourselves using the best materials and assemble the ECH2OTec Watermaker with the highest quality control.

– Michael Bauza, Echo Marine
Which Echo Tec will best fit your needs?
We offer a range of units.  Let us determine which is ideal for you:
Power Source?
Your Application?
Best installation?
- DC - 12 TO 48 Volt
- AC - 115 to 460 Volt
- Engine/Belt Driven

- Yacht Series
- Pro Series
- Commercial

- Modular
- Framed
Conventional vs Energy Recovery
All watermakers available for yachts follow the same reverse osmosis principle, where highly pressurized seawater flows along a rolled up, semi permeable membrane, which allows a certain amount of freshwater to pass. This freshwater is collected and directed into the tanks, while the rest of the seawater flows back into the sea as brine.
The main difference is that on 'energy recovery' style systems, some of the energy that is still available in the pressurized brine reject water is 'recovered' and used to assist in driving the single cylinder high pressure pump.
Energy Recovery Watermakers
Use less-robust small pumps with a complex 'intensifier'
Price is far higher due to complex nature of the recovery device and any electronic circuits
Single piston pump generates more heat
Draw less power
Make less water
Conventional Echo Tec Watermakers
Use heavy duty pumps and motors – specifically designed for the purpose
Lower cost AND higher r­eliability
Push large quantities of water at stable high pressure so membrane lifespan is maximized
Draw more power
Make more water
The Irony of Energy Recovery
As cruisers, we strive toward an energy-neutral boat… but we still don't choose 'energy-recovery' watermakers.
Set up your boat with a decent battery bank and charging system – solar panels, a hydrogenerator, a fuel cell… there are many ways to go. The difference in power needs between an Echo Tec and an 'energy-recovery' system is a 50W solar panel (20 Amps per day).
Whether you have a DC, AC, or engine-driven Echo Tec system, also take advantage of that extra power during times when you're motoring, and make lots of water! Chances are you'll be motoring at least once a week in light air or in and out of anchorages. If you have a generator, you can run a watermaker off that too.
The idea of run it less and make more water – faster , is what drives us to believe that 'conventional' is the way to go.
Energy recover just doesn't add up: the considerable extra cost, complexity (reduced reliability), and longer running time – which means more heat and noise.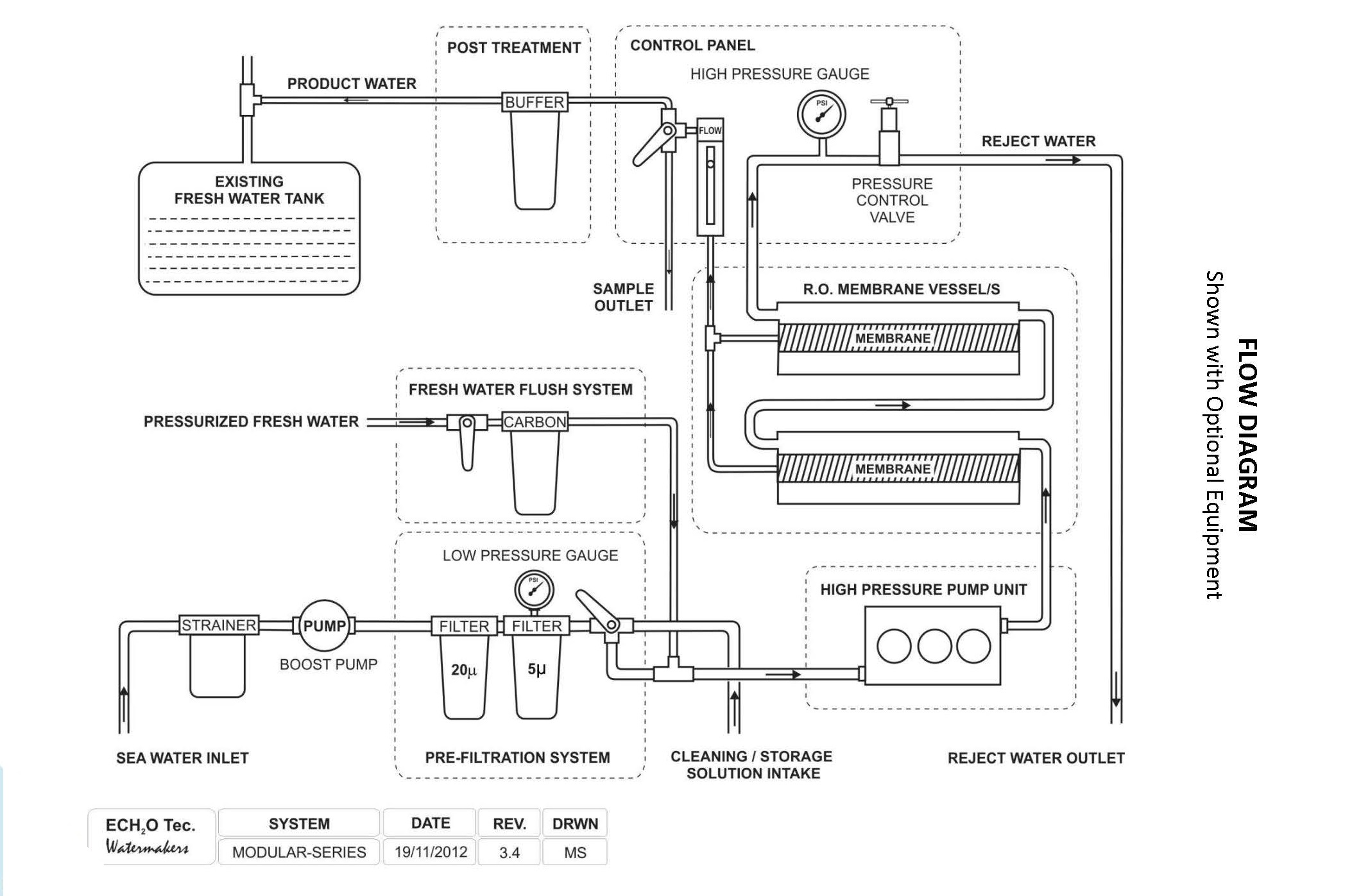 ECHO Tec Differentiators
Lifelong warranty on stainless steel high pressure pump head and the reverse osmosis pressure vessel. Both are manufactured for Echo Tec and to Echo Tec's specifications.
Uses a triplex plunger pump for low revolution and pulsation free raw water flow – allows motor to run at a lower rpm, which means it's quieter too!
Spring loaded pressure regulator for constant working pressure – increases the lifespan of your membrane.
Energy and water consumption conscious? So are we! The post treatment pH buffer re-mineralizes the water so it is not as hard… which means you'll save hundreds of liters of product water over time when rinsing soap from dishes or hair. It's also much better for stainless tanks.
No proprietary consumables – Membranes, filters, etc. may be obtained anywhere in the world
… as I am a qualified chartered engineer. I was specifically looking for a reliable operating unit that would optimize the life cycle, or lifetime costs.