Let us help you set up your boat to be energy neutral with the addition of flexible solar panels…  Whether you're adding solar for the first time, or upgrading old panels, we've done the research for you!
The biggest mistake we made outfitting our first boat was not adding enough solar… On Hydroquest, we had two mid-quality 90W hard panels (total of 180W), screwed into the top of a bimini structure. We were lucky to get 5Amps out of the pair after two years of cruising… in the sunny tropics!

In fact, we had to turn off our fridge from the Marquesas onward as we just didn't have the power to support it. No cold beer 🙁

– Sarah Curry
Solar technology has come a long way in the past few years, and now cruisers can add a large solar array without the addition of a heavy arch structure or custom stainless fabrication, which can be in the thousands of dollars.  In fact, the new trend seems to be removing arches!
Not only are modern panels more efficient with higher output per square inch, they are also very lightweight and give you a range of installation options onto curved surfaces. Most common is to have them sewn into canvas on the top of the bimini or dodger.
You might be surprised by how easy it is to set up a solar array that covers the majority of your onboard power demands… even running a watermaker!
Flexible
Monocrystaline
High efficiency and High output
No need for an expensive arch – sew into canvas bimini or dodger or attached to deck
Lightweight
No sharp corners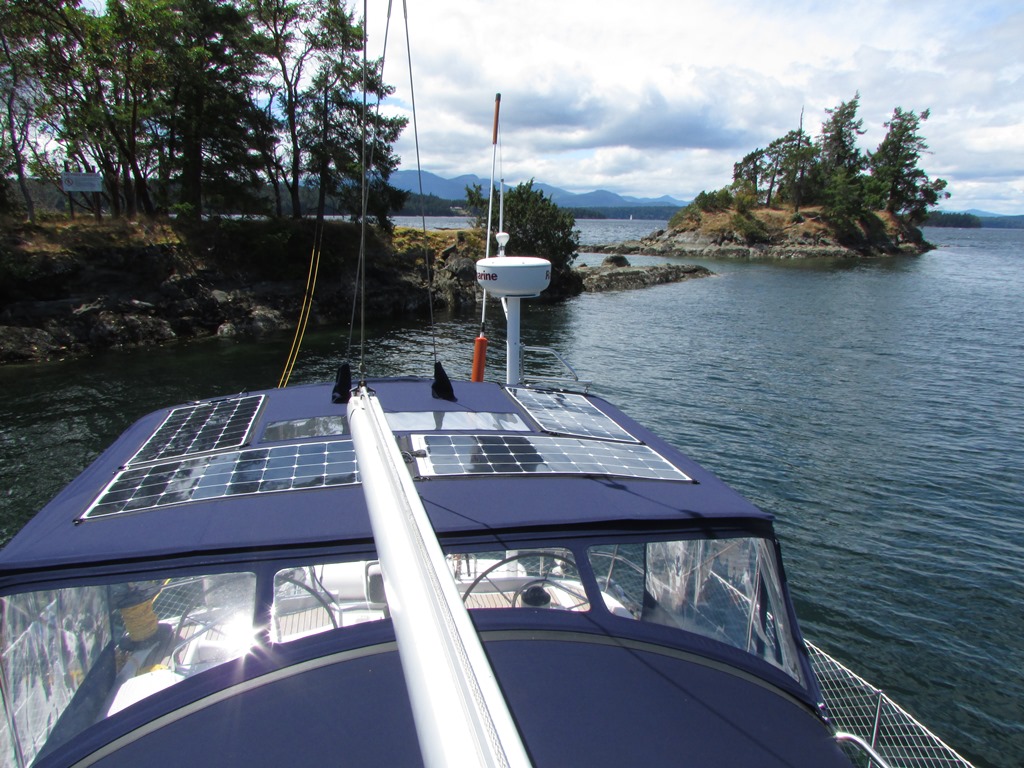 'Doing solar right' was a high priority in outfitting our second cruising boat.
We've installed the Solar Flex package (two 100W Panels) and two of the 112L Solbian SP Panels – for a total of 424W. All four panels are individually zippered into a sunbrella canvas shell that then zippers onto our bimini. All of the wiring is hidden, and the panels are easy to remove.
The Solar Flex panels share a PBM controller (included with the kit). Each of the Solbian Panels have their own MPPT Genasun regulator/controller.
Medium Quality – Solar Flex Package
These panels are distributed by Carmanah, a Canadian company that manufactures industrial grade solar LED lights and solar power systems.
The kit is very complete with two 100W panels, all the wiring and connections you need, and a digital 30Amp regulator with handy display screen. The panels are 1/8" / 3mm thick, slightly heavier, but still great for a canvas installation.
Quality is fairly good, and the price point is even better. So far we have been impressed.
High Quality – Solbian SR Series
Solbian Panels are manufactured in Italy. The SR 'Super Rugged' panels are constructed with technology offering high efficiency with top durability.  The monocrystalline high efficiency SR cells are sandwiched by two patented metallic grids. The grid on the front is carefully tailored to optimize the current harvesting, while the one behind the cell offers strong mechanical support. The grids essentially form a double shield that acts as a conducting reinforcement to the solar cell. Extreme crack and bend tolerance are built in, enabling novel crystalline silicon architectures. A guaranty of high efficiency and unmatched durability in flexible solar panels. The panels are lightweight and only 1/16" / 1.5mm thick.
Best Quality – Solbian SP Series
The highest quality flexible panels on the market today, the Solbian SP Series use SunPowerTM monocrystalline silicon cells, reaching a record 23% conversion of sunlight into electricity. These panels offer the highest output per square foot (fantastic when space is limited but you want to maximize wattage) and are the lightest weight solar panels available.