During all of these shows we are happy to extend our 'Boat Show Special' to anyone who cannot get there.
Please contact John for your quote.
Dusseldorf, Germany – Boot Dusseldorf
January 20 to 28, 2018
Halle 11, Stand E33
See Hydrovane on display with our German Dealer Tom Logisch
Vancouver, Canada – Vancouver International Boat Show 
January 17 to 21, 2018.
Virtual 'Boat Show Special'. Contact John.
We do not exhibit at Vancouver – Vancouverites or visitors to Vancouver can always see us at our West Vancouver offices … or enjoy a trip to Seattle to find us there.
Seattle, USA – Seattle International Boat Show
January 26 to February 3, 2018
Upper concourse – Booth Upper Concourse 2409
See John and Karen, Sarah and Will. See show schedule for our seminar times.
Amsterdam, Netherlands – HISWA Amsterdam Boat Show
March 7 to 11 2018
See Rob Wink of RobWink Serious Seatools.
Richmond, CA, USA – Pacific Sail and Power Show 
April 19 to 22, 2018
Booth E15 in the Craneway Pavilion
See Will, Sarah, John & Karen. See show schedule for our seminar times.
Les Sables D'Olonne, France – Golden Globe Race 2018 Race Village, 
June 16 – July 1, 2018
See a Hydrovane demo unit set up in the Race Village
See Will & Sarah as of June 23rd in the Race Village. Email us to set up a time if you have specific questions.
Southampton, England – Southampton International Boat Show
September 14 to 23, 2018
Stand J327 in Ocean Hall
See Will, Sarah, John & Karen.
Annapolis, USA – United States Sailboat Show 
October 4 to 8, 2018
Booth A21
See Will & Sarah
Paris, France – Salon Nautique International de Paris
December 8 to 16, 2018
Hall 2.1, Stand D67
See Will & Sarah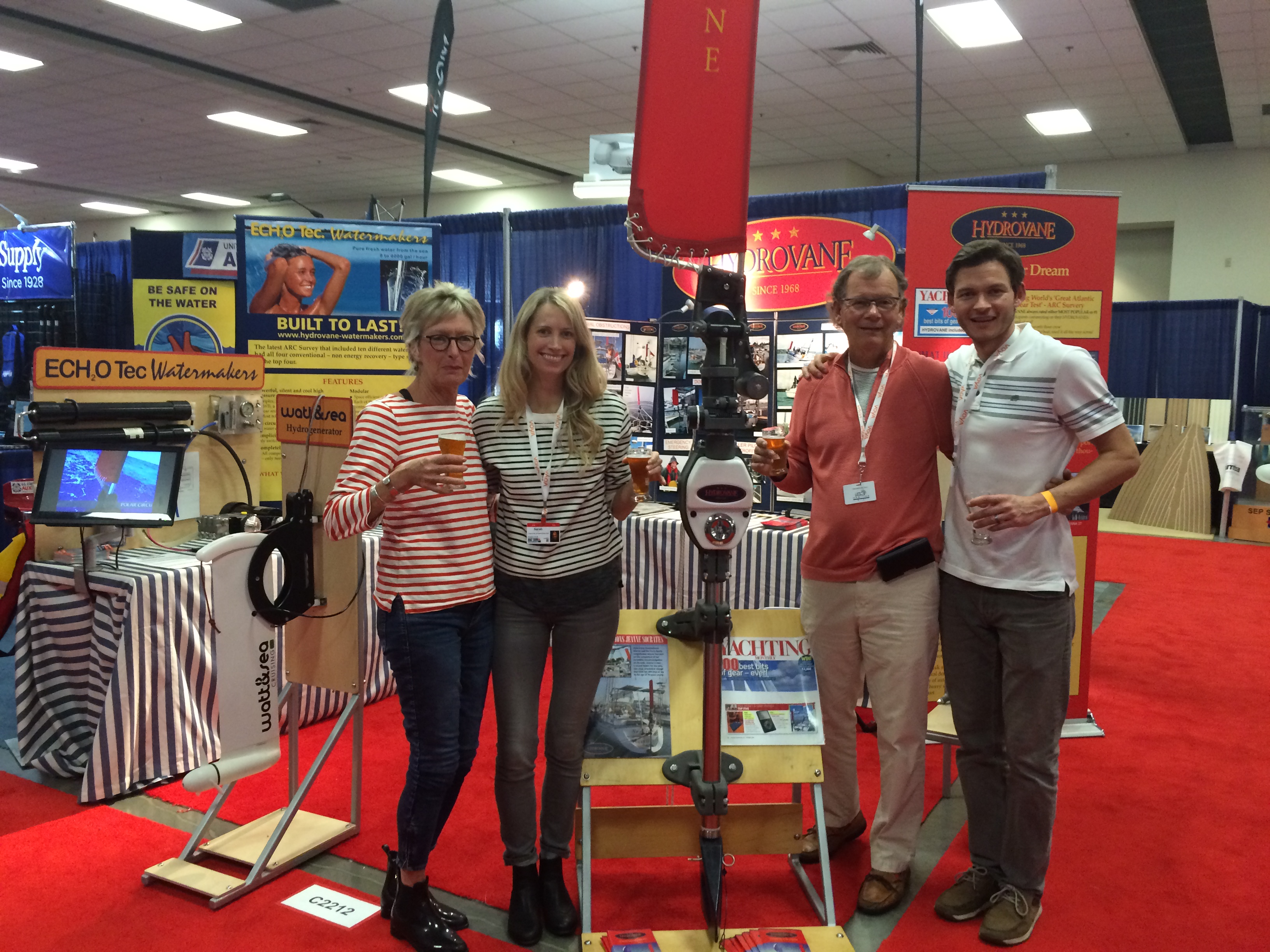 The South Pacific 'Coconut' Milk Run
At various shows: Toronto, Seattle, Richmond
The dream of sailing to the South Pacific is a powerful one… This is our story of how we made our dream a reality: One year to buy and prepare our boat, SV Hydroquest, a Beneteau First 405, for offshore, and one year to sail her across the Pacific Ocean.
Our route is one you may be planning to follow: the South Pacific 'Coconut' Milk Run, sailing westward with the tradewinds. We'll take you through our adventure with photos, video, and stories that range from embarrassing to inspiring! Along the way we'll answer questions such as: What's it really like to be at sea for nineteen days (our longest leg)? How difficult is navigating atoll passes in the Tuamotus (Dangerous Archipelago)? What happens when you sail into a bank of lightning? And… Is two years enough time?
Windvane Self-Steering: Your Best Crew Member
At various shows: Toronto, Seattle, Richmond
How about a crew member who spends endless hours on the wheel, doesn't eat or sleep, and never complains? A self steering system can steer your boat for short distances or ocean crossings with absolutely no fuel consumption. Will provides an overview of the different systems, how they work and what they can do for you. Sarah provides the woman's viewpoint – insight on offshore cruising and how important self steering can be. Together they provide a fun presentation filled with stories, some laughs and thoughts on the serious business of sea passages.
NEW! Offshore Cruising Forum
2017: Toronto, Seattle, Richmond
Panel includes John & Amanda Neal of Mahina Expeditions!
Join us at the Offshore Cruising Forum, for an engaging panel discussion with active sailors/adventurers. The panel will draw on years and miles of experience to answer host Sarah Curry's questions.
What should you prioritize when choosing and outfitting an offshore boat? How can you best prepare yourself for the cruising lifestyle and situations you may encounter – from picking crew to heavy weather? Learn from our mistakes too!
Benefit from expert tips for a safe passages to tropical destinations beyond – the freedom to explore the world in this amazing way is yours to realize.